EXCALIBUR
Reviewed November 17th, 1999 by Staff
Yet another story of the King Arthur, Merlin and Excalibur legend.

Uther Pendragon (Gabriel Byrne) has the noble Excalubur sword. The might wizard Merlin (Nicol Williamson) aids Uther in getting the mighty sword.

When Merlin tells Uther to make a truce between him and his enemy, he follows Merlin's command, however, Uther then falls in lust with his enemies wife Igrayne and vows war unless he can have her. Uther demands Merlin cast a spell to allow him to have one night with the woman. Merlin knowing it would be Uther's downfall does it anyway and transforms Uther into the image of his enemy. Merlin however makes Uther promise that the product of lust (a child) would be his.

Of course Igrayne gets pregnant and years later the mighty Merlin takes the child to be raised elsewhere. Of course Merlin names him Arthur.

The rest of the story shows the normal Arthurian legend such as the "sword in the stone" and the "quest for the Holy Grail".

The video is presented in 1.85:1 widescreen format and is 16x9 enhanced. Overall the transfer is good, but is far from perfect. Contrast and color seem to be dead on but there is many scenes with grain and also not enough shadow content in the darker scenes.

The audio is presented as a remixed DD 5.1 soundtrack. It also does a less than perfect job with no hearable split surrounds and the sub just isn't going to get a workout on the LFE channel. The soundtrack just won't engulf you in the action.

Extras include an audio commentary with director John Boorman, a theatrical trailer, and John Boorman's bio.
Please help support our site by buying this DVD title through this link. Thank you kindly.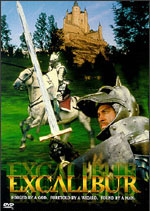 Purchase This DVD
Story / Content



Audio



Video



Extras