EXORCIST, THE
Reviewed July 12th, 1999 by Staff
When you think of a list of the top ten horror movies of all time The Exorcist has to be on that list! I was amazed to think that this movie was filmed over 25 years ago. With the re-release of this movie came the 25th Anniversary Edition. Warner Brothers really did a great job with a new digitally remastered version of the film. You begin your terror filled adventure in a seemingly normal modern America household. The mother being a divorcee taking care of a sweet 12 year old daughter. The mother, Ellen Burstyn, is an actress making a decent living with her daughter Regan, Linda Blair, in a huge house with servants to boot. The two begin hearing noises in the attic and you are slowly introduced to the fact that Regan has some problems. Are they mental or spiritual? You are then introduced to the possibilities of possession and finally are slapped in the face with the fact that this girl is possessed with the Devil himself. The only cure is an exorcism. This film is definitely not for anyone under 18! Kids will have nightmares for years if exposed to this film.

The video quality is good, not perfect, but very respectable considering that this film is over 25 years old. There are some hints of grain and the colors are not very vibrant, but is by far the best quality I have ever seen this movie presented in.

The audio while not very directional was remastered in DD5.1 and is very clear. You can hear every moan, groan and slap! The audio is very clear and crisp with out any annoying hisses found on VHS. You also will be treated to an audio commentary by the Director William Friedkin and Author William Peter Platty.

Other extra's include The making of The Exorcist, Documentary produced by the BBC – The Fear of God, A special 52 page booklet Exorcist: The making of classic motion picture and more! The total package is great and you will want to add this one to your collection before Halloween! A must if you are an avid DVD collector!
Please help support our site by buying this DVD title through this link. Thank you kindly.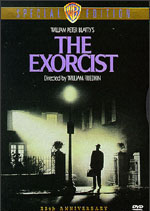 Purchase This DVD
Story / Content



Audio



Video



Extras