FAMILY GUY: VOLUME 2 (THIRD SEASON)
Reviewed January 5th, 2004 by David Nusair
Family Guy is one of those shows that was cancelled long before it had a chance to decline in quality. Had the program been able to exist for more than three seasons, there's no doubt it would have become a classic television comedy. As it is, the show's legend continues to go on, thanks to reruns on cable TV and now this box set.

For the uninitiated, Family Guy follows the exploits of the Griffins. There's dad Peter, a dim-witted oaf that's constantly getting in trouble for his wacky antics. His wife, Lois, is loving and loyal – despite Peter's antiquated views on women and general idiocy. The couple have three children: Chris, a lovable goofball that occasionally suffers from bursts of unexpected clarity; Meg, a self-conscious teenager that desperately wants to fit in; and baby Stewie, an apparent genius and future Bond super-villain who spends most of his time trying to eliminate his greatest foe – his mother. There's also the family dog, Brian, who is clearly smarter than his owner and seems as though he'd be happier hanging around Mensa candidates.

Virtually every episode from season three features at least half a dozen belly laughs, with a whole cornucopia of chuckles also present. Storywise, not much happens in season three that affects the series as a whole – with one notable exception. In the episode "Mr. Saturday Knight," Peter invites his boss, Mr. Weed, over for dinner. Everything goes fine, until Mr. Weed chokes to death, leaving Peter without a job. The same episode finds Peter fulfilling his lifelong dream of working at a Renaissance Fair, where he meets up with a bullying black knight.

The complete list of episodes is as follows: "The Thin White Line," "Brian Does Hollywood," "Mr. Griffin Goes to Washington," "One if by Clam, Two if by Sea," "And the Wiener Is," "Death Lives," "Lethal Weapons," "The Kiss Seen Round the World," "Mr. Saturday Knight," "A Fish out of Water," "Emission Impossible," "To Love and Die in Dixie," "Screwed the Pooch," "Peter Griffin: Husband, Father…Brother?," "Ready, Willing and Disabled," "A Very Special Family Guy Freakin' Christmas," "Brian Wallows and Peter Swallows," "From Method to Madness," "Stuck Together, Torn Apart," "Road to Europe," "Family Guy Viewer Mail #1," "When You Wish Upon a Weinstein."

Audio: Family Guy: Season Three comes equipped with a Dolby Surround soundtrack. It's certainly better than watching the show off television, but it's not as impressive as the eye-opening video transfer.

Video: The first Family Guy set was a source of controversy, as certain episodes were rendered with visibly distracting jagged lines. That's been solved for this release, as these episodes are astoundingly crisp and clear. The video quality is occasionally too sharp, but it's easy enough to get used to after a while.

Extras: Though not as bountiful as the Simpsons collections, there's a lot of quality extras to be had here. The most obvious extra is the inclusion of the episode "When You Wish Upon a Weinstein," which never received a televised airing. The episode details Peter's attempts to convince Chris to convert to Judaism, which presumably caused the executives at Fox to shelve it. There's nothing offensive here, though, and it's just as funny as anything other Family Guy episode. Also included are commentary tracks on six episodes. Each features series creator Seth MacFarlane, along with assorted writers and actors. These are all quite interesting, though the participants are occasionally prone to talking over each other and making references to certain things without explaining them. Next up is a seven-minute "series pitch," which is just a segment of the pilot episode drawn differently. Watching the show with different actors was certainly interesting, and it the transition from pitch to show was quite seamless. Two featurettes are also included – "Uncensored" and "Series Overview." Running around 6 and 17 minutes, respectively, the two feature the various participants discussing the show. My only complaint here is the abundance of clips; it would have been nice to see some of the performers doing the voices, rather than continually cutting to a clip (we get a brief snippet of MacFarlane doing Quagmire's voice, which is hilarious). Finally, 28 deleted scenes are included in "animatic" form – meaning, they're not fully animated but the voices are present.

Conclusion: This is a must-purchase for fans of the show, and certainly a must-rent for neophytes.
Please help support our site by buying this DVD title through this link. Thank you kindly.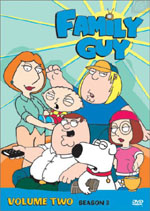 Purchase This DVD
Story / Content



Audio



Video



Extras