FAMILY MAN, THE
Reviewed July 7th, 2001 by John DeFoor
The movie stars Nicolas Cage as Jack Campbell, a rich, fast living, Wall Street worker. His life changes suddenly when he wakes up next to an old college sweetheart Kate (Tea Leoni). He now has two kids and is very confused. He looks for answers during the entire film to find what he is missing in his life.

The sound is presented in Dolby Digital and DTS 5.1. The sound is crisp and clear. The sounds on this DVD definitely increase the movie's rating compared to VHS. The sound is good for the movie not to be an action film. There is definitely a difference between this DVD and VHS as far as sound quality is concerned.

The video is good also. It is presented in 2.35:1 anamorphic widescreen. The film is crisp and clear to every detail. This is definitely an advantage of buying the DVD over the VHS. The picture is good enough to make the viewer ask the question, "why even buy a VHS anymore?" The clarity of the DVD is great. You never have to squint to guess what an object is in the film. I personally see this as a plus for the DVD. If you are looking for a good movie with good video buy this DVD.

The extras on this DVD were quite extensive. Included is "Spotlight on Location" which is a look at the making of the film featuring behind-the-scenes footage and interviews; a commentary with Director Brett Ratner and Writers David Diamond & David Weissman; another commentary with Producer Marc Abraham; yet another commentary with Composer Danny Elfman; deleted scenes; great outtakes; the music video "This Could Be Heaven"; a game; DVD-ROM features including: screensavers, wallpapers, production info and more. I really liked the special features. The outtakes are a must see. Good extras overall.

The movie as a whole is good. The movie is funny, entertaining, sad, and intriguing. I think it is worth the money to buy the DVD for two reasons - if you like drama and an unexpected outcome and if you like Nicolas Cage, he does an excellent job in this film. Overall I would recommend this DVD, it has all the major components needed in a film to keep the viewer interested, laughing, sad, and at the same time hoping for an outcome, whatever it may be.
Please help support our site by buying this DVD title through this link. Thank you kindly.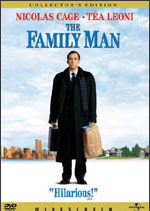 Purchase This DVD
Story / Content



Audio



Video



Extras