FAR FROM HEAVEN
Reviewed May 11th, 2003 by Dan Jones
Far From Heaven is an excellent piece of filmmaking. It is obvious that the film's director, Todd Haynes, took meticulous effort to make the film appear like the films from the 1950s, while touching on subjects that would not have been placed as the centerpiece of a typical 50s melodrama; specifically homosexuality and racism.

Far From Heaven takes these subjects and works them into the underbelly of this Connecticut suburb, which at the surface seems perfect. Our main character, Cathy Whitaker (Julianne Moore) is what seems to be the model 50s housewife; carefully watching over the family and seemingly full of naivety, yet with a warm heart to the world. Frank Whitaker (Dennis Quaid) represents the successful working man, a husband any women would want. Added to this mix is the Whitaker's new gardener, Raymond Deagan (Dennis Haysbert), who arrives after his father (the original gardener) passes away. Cathy welcomes him rather warmly, though it is obvious that his skin color is a bit of a topic to the gossipers that surround the Whitaker's.

As time progresses in the film, we get a hint of the reality of these lives, when Cathy gets a call that Frank needs to be picked up from the police station for being intoxicated, though he claims it was just one lousy drink. A bit more time passes and we find Frank entering into a gay bar; he seems to question his being there, but stays nonetheless. Later in the film, due to Frank working late, Cathy decides to bring him dinner at work. Upon entering the dark office building, she finds her husband kissing another man. From here, Frank apologizes profusely and states that he is going to get this problem fixed, that he knows it's wrong and wants to be cured of it. On top of this, Cathy finds that she is greatly intrigued by Raymond, and begins spending more and more time with him. She seems almost confounded by him; seeing him as much more then what society dictates he is. There does not appear to be much in the way of sexual connection between the two, but they are both drawn to each other. From this friendship, the neighbors and supposed friends of Cathy become suspicious of their actions, her being a white woman and him being a black man. Gossip, of course, spreads around the town like wildfire.

Essentially, we have struggles between societal norms of the time; homosexuality is portrayed as a curable disease, while intermingling of races is looked at as disgusting or a crime. Through it all the film carries its 50s style, while attempting to keep the vale of perfection over this crumbling household. The acting, lead by Julianne Moore, Dennis Quaid, and Dennis Haysbert is exceptional and the cinematography is beautiful. It is a shame the film was snubbed at Oscar time.

Having seen Far From Heaven in the theaters, and on this DVD presentation, I must say the transfer here, in 2.35:1 anamorphic widescreen, is excellent. Stylistically this film is not supposed to look like the latest Hollywood blockbuster, so the palette might be a bit different then people are used to seeing. Colors are extremely vivid, detail is excellent, darks and blacks are bold and flesh tones are accurate. The source seems clear of defects, and I noticed little in the way of mastering issues, with no noticeable compression problems nor much in the way of edge enhancement. An excellent transfer all around.

As for audio, we have a choice between two 5.1 mixes in Dolby Digital and DTS. Both tracks sound relatively good, albeit a bit lackluster. There's little in the way of 360-degree imaging, with less then active surrounds. Elmer Bernstein's Oscar nominated score sounds excellent though, with good clarity and range, while dialogue is crisp and clear. I noticed barely any difference between the DTS and Dolby Digital tracks, so go with whichever format you psychosomatically think sounds better.

Starting the extras, we have an excellent audio commentary with director Todd Haynes. Haynes gives us an overload of information, covering just about every conceivable topic of the film, as well as 50s melodramas of the past. If you are a budding filmmaker, this is a track to check out.

Next, we have a 25-minute plus Sundance Channel featurette. This piece dives into far more detail then a normal made for TV like the HBO specials. We get interviews with much of the cast and crew, including Julianne Moore and Dennis Quaid. We also get information on production design and costuming, as well as some dialogue with Bernstein on scoring the film. A definite watch.

As we have come to learn from short featurettes starting with "The Making of," there's little new information to be found in The Making of Far from Heaven over what you get out of actually watching the film. This is strictly promotional fluff.

Finishing the featurettes we have an entirely too short Q&A session with Julianne Moore and Todd Haynes. Running at only five minutes in length, there is little time to cover anything in detail, though what is here is worth watching. Twenty-five extra minutes would have been nice nonetheless.

Rounding out the extras, we have production notes and the film's theatrical trailer in anamorphic widescreen.

Far From Heaven is a great throwback piece. Haynes truly understands the 50s melodrama and took great time to intertwine a film made in 2002 into a genre long past. The acting is flawless; the cinematography gorgeous, and the story meaningful. This is a nice DVD set with an excellent transfer and a nice bit of extras; any fan of film should add this to their collection. Highly recommended.
Please help support our site by buying this DVD title through this link. Thank you kindly.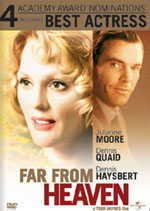 Purchase This DVD
Story / Content



Audio



Video



Extras