FAST AND THE FURIOUS, THE
Reviewed December 23rd, 2001 by Dan Jones
"I live my life a quarter mile at a time, nothing else matters, for those ten seconds or less, I'm free."

The Fast and the Furious is quite a high-octane thrill ride that delivers much more then its counterparts, such as Gone in 60 Seconds and Driven, with redeeming qualities from films like Days of Thunder. Fast and the Furious is a popcorn movie without a doubt. It's a sit down, hold-on, action movie that has decent acting, coupled with excellent action sequences.

Somewhat based on Racer X, an article that inspired the movie, The Fast and the Furious revolves around a pretty straight-forward story. We get two, constantly battling, "street racers," whom fly down Los Angeles streets during the night in heavily souped-up sports car. Dominic Toretto, played by Vin Diesel (whom really steals the show), is one of these "street racers", along with being the leader of the gang. Next, we have Johnny Tran, played by Rick Yune, which is Diesel's new nemesis when it comes to street racing. Oh, and of course, this is gang related, and therefore when electronics come up missing throughout the city, this flashy street car gang is targeted. Enter Brian O'Conner, played by Paul Walker, a hotshot detective (whom also drives insanely fast) whose goal is to track down the source that is stealing mass amounts of expensive electronics equipment...and of course, he's looking at Diesel in Yune as top suspects. From here, we have some meaningful side plots (Walker's character falling for Toretto's daughter Mia, played by Jordana Brewster) that other action movies of this kind mind not have even tried to incorporate, therefore giving us a story that is not too straightforward or obvious in its ending.

Overall, The Fast and the Furious does what other movies of its type cannot. It provides a fun, action packed movie, with a story that is not painfully obvious from the outset. We get some great camera work, some decent acting, and just overall fun. Yes, perhaps the movie is far fetched and some scenes a bit over dramatic, but that's what we have come to expect from Hollywood movies of this type. Try not to rationalize much in Fast and the Furious and you will probably enjoy it.

The Fast and the Furious will be one of the first 2002 releases for Universal, and man have they delivered this time around. Even though it was filmed on a fairly small budget ($38 million) compared to most other movies, The Fast and the Furious has still been transferred to a demo quality DVD to "ooooh" and "aaaah" your friends. Perhaps Universal figured they could put more time and money into the DVD after checking out how much this movie grossed in theaters, nearly quadrupling its budget.

On the audio side of things, The Fast and the Furious lives up to all expectations. As the movie is VERY active in sound, one could only hope that a nice 5.1 mix could be created. To put it lightly, I was blown away. For this collector's edition, Universal has provided us with 5.1 Dolby Digital and DTS mixes, and both just scream. These 5.1 mixes take full advantage of every speaker in your home theater setup, keeping the surrounds extremely active throughout, as well as having exceedingly deep and powerful LFE. Ripping down the streets of L.A. at blazingly fast speeds truly transfers over to this disk audio wise. Engines roar and the landscape whips by beautifully. As for which 5.1 track sounds better; I'd have to give it to the DTS mix for having slightly more defined lower frequencies, along with a more detailed and correctly imaged soundscape. If I had to complain I'd say something like, "It's 2002, where's 6.1 DTS-ES Discrete and Dolby Digital EX?" But, that'd be lame of me to complain of. Both 5.1 tracks do an extraordinary job.

Also included is a French Dolby Surround 2.0 track (no English 2.0, nor French 5.1) and English captions. Again, these 5.1 mixes are definitely demo material; add this to your "wow" section.

As for video, again, demo material. Universal has truly upped the ante for itself in 2002 with this release. Audio is fantastic and the video seen here is truly exceptional. Presented in 2.35:1 anamorphic widescreen, this Super 35 transfer was done exceptionally well. I really cannot find anything to complain about with the transfer (and I looked very hard). There is not a blemish, scratch or grain to be found. Colors are vibrant without bleeding. Darks and blacks are rich and deep, and overall detail is very sharp. I did not notice any halos, meaning little edge enhancement has been done if any. No digital compression problems are present either. Truly exceptional video wise. Kudos to Universal.

Onto to the supplemental material. First up is the commentary track by director Rob Cohen. This is a pretty fun commentary, as Cohen is pretty energetic throughout, giving us quite a bit of information in a relatively short period of time. We get some dirt on the filming process of the night drag racing scenes, as well as general plot ideas. Overall this is an informative track that is worth a listen.

Next, we have eight deleted scenes. As with any action movie of this kind it's important for the movie not to drag; coming in at an hour and forty-seven minutes, Fast and the Furious could not really spare much more time. Some of these scenes are not very long, occasionally just minor edits; but they're worth a watch and all include commentary.

Next, we have the many featurettes. First off is "The Making of The Fast and the Furious." Coming in at under twenty minutes this is no huge documentary on the film, rather just a short somewhat promotional behind the scenes that gives us interview footage with the director and most of the cast and crew, as well as some information on the elaborate stunt work. Next we have an interesting clip on how Fast and the Furious had to be edited for the MPAA (Motion Picture Association of America) to bring its rating down to the more teen friendly PG-13. This is an eye opener piece on the logistics of the MPAA rating system and the stingy criteria of what can and cannot be shown; worth a watch. Next, we have Visual Effects Montage, which revolves around the first race scene in the movie. This gives us what we'd expect, a look at how these kinds of action sequences are made, from storyboards to final CGI editing. Next, we have a Storyboard to Final Feature Comparison, which is pretty self explanatory in nature. Next, we have an eight camera angle stunt sequence which focuses on the final stunt in the movie, from eight different points of view. Cool to check out. Next, we have "Movie Magic," a featurette that shows us how effect scenes are merged to create a sequence of events. Next, three music videos have been included, Ja Rule's "Furious," Caddillac Tah's "POV City Anthem", and Saliva's "Click Click Boom." All the music videos are shown in full frame.

Finally, we have the standard fare of the theatrical trailer (though not 5.1 nor anamorphic), filmographies, and production notes.

As for ROM content, we get a pretty cool street racer game, Fast and the Furious downloadable's in the flavor of screensavers and wallpapers, web-links, a stills gallery, and a nifty five track jukebox. This is all on top of a very slick looking interface. Overall the ROM content is enjoyable and better then most.

Overall, The Fast and the Furious is all about entertainment factor. It's a very fun movie that doesn't require you to lose much sleep over after viewing. It won't eat away at your brain, nor leave you with any lingering thoughts to ponder. It's just brainless fun, and sometimes that's all we really require in a movie. This Fast and the Furious Collector's Edition is a DVD that definitely follows in the movie's high-octane atmosphere. With a fun movie, along with reference quality audio and video, and a nice bunch of extras, this one is definitely recommended.
Please help support our site by buying this DVD title through this link. Thank you kindly.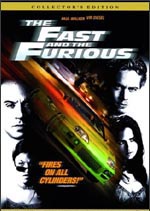 Purchase This DVD
Story / Content



Audio



Video



Extras