FAST TIMES AT RIDGEMONT HIGH
Reviewed December 7th, 1999 by Staff
From the director of the hit movie Clueless, and the writer of Jerry Maguire, comes a true cult classic. Back in the early 80's there were not many young adult movies out there – until this true to life comedy came along.

The story centers on a few main characters and what high school was really like back then. The movie has an all star cast including early work from Sean Penn, Jennifer Jason Leigh, Phobe Cares, Judge Reinhold, Anthony Edwards, Forest Whitaker, Eric Stoltz, and a great performance by Ray Walston as "Mr. Hand".

This movie shows was sex, drugs, after school jobs, social lives and dating was all about. The dialogue is so close to real life back in the early 80's. It should be – the writer actually went undercover at a real high school as research.

The video is presented in 1.85:1 anamorphic widescreen and never looked better. Though not nearly one of the best transfers out there (the movie is rather old and lower budget), but there seems to be no major problems with it. Color and detail seem to be right on.

The audio is present in 2.0 mono. A good 5.1 remix would have been very welcomed, but alas we get what we get. Dialogue seems clear, but the soundtrack just won't seem to jump out at you (nor give your sub a good workout).

Universal did a great job on extras on this disc. There is a commentary by the director and writer (Amy Heckerling and Cameron Crowe), a great 30+ minute documentary with interviews of the cast, production notes, music highlights (jump to a song in the movie), a trailer and more.

Overall another great disc from Universal, even though it could have been better. If you are a long time fan of the movie, you won't be too disappointed. A great movie so if you have not seen it, rent it some day. The movie is rated R and runs about 1 hour and 30 minutes.
Please help support our site by buying this DVD title through this link. Thank you kindly.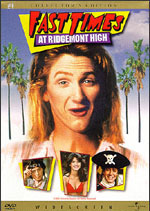 Purchase This DVD
Story / Content



Audio



Video



Extras