FEAR AND LOATHING IN LAS VEGAS (CRITERION COLLECTION)
Reviewed March 5th, 2003 by Dan Jones
"You can turn your back on a person, but, never turn your back on a drug. Especially when it's waving a razor-sharp hunting knife in your eye."

Directed by Terry Gilliam and adapted from the Hunter S. Thompson novel of the same name, Fear and Loathing in Las Vegas is a story of two men traveling across the United States and through time in search of the American Dream, with the help of huge amounts of drugs and alcohol. Simple enough, right? Wrong. This is definitely one of the most bizarre, strange, and hilarious films I can think of.

Johnny Depp plays Raoul Duke (Hunter S. Thompson) brilliantly. It is clear that Depp's preparedness for the character, by essentially living with and doing everything that Thompson did, truly paid off for the film. Benecio Del Toro also puts in a great acting job as Duke's supposed lawyer, the very strange, Dr. Gonzo.

Thompson is definitely one of the more bizarre men on the planet so this was undoubtedly not an easy task for Depp. Just recently Thompson was on Late Night with Conan O'Brien doing PR for his new book. Of course Fear and Loathing came up and Thompson described how Depp lived with him, slept on his couch, went everywhere he went and did everything he did. Nevertheless, Thompson was still Thompson, drunk/high when he got on stage, swearing and being just generally incapable of conversation at times. Quite humorous nonetheless. Sorry for the sidetrack.

So do you need to be drunk or high or on acid to appreciate this film? Definitely not. Fear and Loathing, while seeming like it might be a simple druggy movie on the surface, has a greater storyline too it. The film is about where our country and our society went between the 60s and the now and seems to describe this time and the changes between the decades in a pretty accurate method.

This is also one of those definitive cult films, that did just about horrible in the box office and has since gone on to amass quite a large following. This DVD set we have here is sure to add more to that following.

This will be Fear and Loathing's second release to the DVD format, except this time coming from the people at Criterion. Brief thoughts on it? Perfect; rendering the previous release useless in every possible facet. Let's take a closer look.

Presented in 2.35:1 anamorphic widescreen, Fear and Loathing looks exceptional. It is obvious that much care was put into this transfer. Colors and contrast are exceptional, even during the especially psychedelic scenes. Blacks and shadows are presented perfectly, with excellent richness while sustaining great detail. The source also looks very good, with little grain and no obvious nicks or scratches to be seen. No transfer problems in the way of excessive edge enhancement or compression problems were noticed. Truly a grade-A presentation.

The audio is equally impressive. With 5.1 Dolby Digital and DTS tracks, this is a surprisingly enveloping and dynamic presentation with great ambience throughout. The front side stage never seems to completely anchor the film; rather it seems there is always something behind you that allows for a very immersive experience. Clarity and range is exceptional throughout, with even the smallest audio detail seeming to be properly represented. As for which track is the best? I'd give that to the DTS mix with improved clarity as well as a tighter and more emphatic low-end. Exceptional work from Criterion.

Tons of extras.

First off we have three audio commentaries, all providing different insight into the film and all worth a watch if you enjoy the film. The three tracks come in the way of a director track with Terry Gilliam, a track with stars Johnny Depp and Benecio Del Toro along with producer Laila Nabuki, and finally we have a track that just has to be heard to be believed, that of the obviously drunk/stoned Hunter S. Thompson (surrounded by people from Criterion and Fear and Loathing producers). The director track is undoubtedly the best of the bunch, in terms of commentary on the film and what went into making it, with the actor track providing good insight into working on the film. The Thompson track is just flat-out bizarre. The man has definitely had one too many acid trips, but its no doubt entertaining to listen to, and entertaining to hear the people surrounding him trying to keep him on track.

Next we have a selection of deleted scenes with nice optional commentary by Gilliam. While none of these are overly important to the film and therefore their cut is not a surprise, they are worth a watch; especially with the commentary track on.

Next we have two featurettes both documentary in nature, namely "Fear and Loathing on the Road to Hollywood" which is a 1978 BBC documentary which follows (in actuality) Ralph Steadman and Hunter S. Thompson on a trip from Vegas to Hollywood. Very cool. "Hunter Goes to Hollywood" provides us even more information into the man that is Thompson.

Next we have a very informative audio interview with Gilliam and his trials and tribulations with getting the film to screen, trying to get around Hollywood's ridiculousness. Very informative, especially if you want to be a director in the future.

We also have a very strange section, in which Depp reads selections of the correspondence he had with Thompson throughout the making of the film. This goes on for over fifteen minutes and is simply Depp reading into a camera. Some very interesting, funny stuff to be heard here; one of the strangest, coolest ideas for an extra I've seen in a while.

Next we have an interesting stills gallery (not your typical here's a shot from the film), as well as excerpts from the 1996 Fear and Loathing audio CD.

Rounding out the extras we have storyboard and productions notes, a more typical stills gallery (then the one previously mentioned), TV spots and the films theatrical trailer (along with director commentary!). We also have a nice included booklet in typical Criterion fashion.

Fear and Loathing is an excellent movie that provides a vague commentary on the changes this country has gone through in the past decades. The film, while some might dismiss as druggy excess, is brilliantly presented and perfectly acted. Criterion has once again gone over and above the call of duty with this release with a brilliant transfer and great audio tracks as well as boat-load of extras. If you have the previous release, you'll need to upgrade. If you've never seen the film, you'll need to check this release out. Outstanding.
Please help support our site by buying this DVD title through this link. Thank you kindly.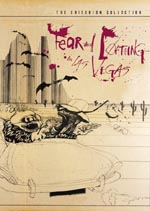 Purchase This DVD

Purchase Promo Poster

Story / Content



Audio



Video



Extras