FERRIS BUELLER'S DAY OFF
Reviewed March 19th, 2000 by Andrew Stoakley
Plot

Ferris Bueller (Matthew Broderick) is a kid we all hated in high school. You know the one that got away with everything without ever facing the consequences of his or her actions. Well, "Ferris Bueller's Day Off" is about that kid and his antics when one day he decides it's too nice outside to go to school. Ferris gets his sick friend Cameron (played outstandingly by Alan Ruck) out of bed and his girlfriend Sloane (Mia Sara) out of school to take part in his daylong quest for fun and frivolity. Along the way they catch a Cubs game, eat at a fancy restaurant, enjoy the fine arts and if you can believe it, Ferris even has time to sing "Twist and Shout" in a downtown Chicago parade. Oh, they also do all of this while driving in Cameron's father's 1961 Ferrari 250 GT California and we won't discuss what happens to the car as it is way too painful to recall. However, Ferris' day of leisure could all come to a crashing end if Mr. Rooney, Dean of Students at the high school catches Ferris in the act, or, if Ferris' jealous sister Jeannie (played by a pre 'Dirty Dancing' Jennifer Grey) busts him first.


How Does The Disc Look?

"Ferris Bueller's Day Off" looks great. A nice widescreen transfer which has been enhanced for 16x9 comes across with natural colors that don't look harsh or videoized (ok, it's not a real word, but you know the gist of it!). There were no noticeable imaging problems, for example: dot crawl or artifacting and overall this DVD looked fantastic. It sure is an improvement over any VHS copy or laser disc out there.


How Does The Disc Sound?

Presented in both Dolby Digital 5.1 and 2.0, this DVD sounded great for the type of film that it is. Dialogue appeared neutral through the center channel while music and sound effects enveloped the listening area quite nicely. The only time you really notice the rear channels is when the two parking lot attendants take the Ferrari out for a little test drive and jump the car from behind you and then land in front. Nice job!


What Extra's Do You Get?

There are a few extra's to be found on this DVD, here is a complete list of them:

- English subtitles
- Interactive menus
- Scene selection
- Commentary with writer and director John Hughes


The commentary is excellent! Watch the movie first, and then watch it again with the commentary to really get a sense of what John Hughes was trying to make with this film. It's one of the better DVD commentary tracks out on the market.


Well?

This is a great movie. In fact, it was a launching pad for its star Matthew Broderick and gave more of a lift to writer / director John Hughes. This is part of Paramount's 'Widescreen Collection' and it really deserved a good transfer, let alone a nice overall package. Paramount has done a good job, but it would have been great to see a featurette on the making of, or a retrospective considering how well both Matthew and Alan Ruck (see Spin City) are doing right now. Overall, this is a must have for any collector who really wants to have excellent movies in his or her collection.
Please help support our site by buying this DVD title through this link. Thank you kindly.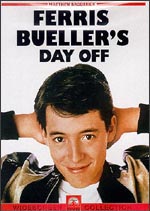 Purchase This DVD
Story / Content



Audio



Video



Extras