FIFTH ELEMENT, THE (SUPERBIT)
Reviewed November 15th, 2001 by Dan Jones
Me fifth element, supreme being. Me protect you.

The Fifth Element is one of those movies that demands to be watched over, and over again. It is a veritable treat for the eyes and the ears, along with being just a genuinely good and funny action movie. Starring Bruce Willis, as Korben Dallas, and the Fifth Element, or Leeloo, played by Milla Jovovich, Bruce Willisís character must save the human race from an alien force that comes every five-thousand years bent on the eradication of the Earthís population. Of course, Dallas never really signs up for this job, but after accidentally joining up with Leeloo, he finds out that he really does not have a choice. Of course, in order to eradicate this evil force for another five-thousand years, five special elements must be placed in a specific Egyptian temple; therefore, Dallas and Leeloo must acquire these elements (Leeloo of course being the fifth), and get to the temple. To add to this already hard journey, they are being chased by this force, and Gary Oldmanís character, Jean-Baptiste Emanuel Zorg, who plans to gain from this alien forceís eradication of the human race.

The Fifth Element also gives a good supporting job by Chris Tucker, whom plays a, quite frankly, very annoying radio show host. Nevertheless, once you get by his characterís personality, he really does become... standable and amusing. Overall, the script is very good and the plot, besides a couple of inevitable holes, is very enjoyable and fun.

I cannot stress enough how beautiful this movie is; Luc Besson definitely made great use of his large budget for the film. There is so much color, so much great setting, scenery, and costuming, it is just... beautiful, just stunning. All these facts considered, The Fifth Element is one of those perfect movies to be released on DVD... especially on this new Superbit line.

So what is Superbit? (if you have read my previous Superbit reviews, forgive me for repeating myself) Well, the goal behind the Columbia/Tristar Superbit line is to basically take the current DVD technology, and push it to the greatest of extents in terms of digital picture and sound, by increasing the bandwidth allowed to the video and audio tracks; instead of dropping these bit rates to make room for ANY supplemental material, interactive menus, etc. The Fifth Element Superbit DVD release follows this same template of course.

First off, it must be said that the original release of The Fifth Element to the DVD format by Columbia was a tremendous achievement in video and audio quality. The transfer was definitely demo quality, displaying truly vibrant and rich colors, great detail, no blemishes, no artifacts or compression problems, along with a brilliant sounding Dolby Digital track, altogether it was just... well, like Leeloo for example... perfect. Who would have thought that the Superbit version would have added any noticeable quality difference? We were all wrong.

Video wise, The Fifth Element is presented in 2.35:1 anamorphic widescreen and just jumps off the screen and makes sweet, sweet, love to your eyes (too much?). It really cannot be said how perfect the image looks, how crisp and clean, how much depth it seems to have, how film-like this release seems. There is absolutely nothing to complain about, no compression problems, no edge enhancement problems... nothing. If you thought the original release was perfect, this Superbit release will make a liar out of you.

Audio wise this Fifth Element release again manages to pass the tremendously good initial release. This Superbit release gives us the first 5.1 DTS track to grace the movie; and it really does an excellent job in surpassing the included Dolby Digital track. Even though both tracks are great I cannot say enough about the DTS tracks quality; exceedingly clear, rich and lively. What more can we ask for?

Again, extras are not something we will ever see in the Superbit line. These releases are about the great video and sound; if you really want the extras, you will have to get the non-Superbit version.

I really have to give kudos to Columbia and Sony for pulling this kind of audio and video quality off. The Fifth Element, Superbit, is a true masterpiece for the senses. I cannot recommend this release enough. If you do not own the original, or do and have a nice widescreen set, you might want to re-purchase this release; if you do not own the original release, I would really recommend picking this up. I cannot recommend it enough. This is a must buy for DVD enthusiasts.
Please help support our site by buying this DVD title through this link. Thank you kindly.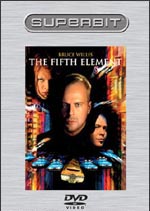 Purchase This DVD
Story / Content



Audio



Video



Extras