FIGHT CLUB
Reviewed July 10th, 2000 by David Colby
Ever wonder why you just need and desire that next DVD? Do you really need it; does it really make you happy? Or are you just a victim to consumer brainwashing? Why does everyone wish to make his or her life modeled around Martha Stewart? All we really need is some shelter, food and some basic clothing, but yet we are all but forced to live this "Idealistic Life." Fight club, although viewed by many as a violent film, really will make you think. Especially when you agree with many of the ideas spewed by a mad man, are we truly insane? David Fincher creates a myriad of visual treats that pulls together this adrenaline junky madness. Add in two great actors, Brad Pitt (Tyler Durden) and Edward Norton (Jack) and you have a great combination of good and evil, boring and wild! By no means is this a family movie, but it does raise some questions and at over 2 hours long there are no slow points. So how did the DVD turn out?

The audio is of course provided in Dolby Digital 5.1, Dolby Prologic, and even comes with a THX audio setup routine. The sound is flawless and while not very loud is accurate and surrounds you a generous 3-d Field. With the Special Edition, which you can find for under $20, comes with 4 separate audio commentary tracks. Each of which provides a unique view on how the movie was created and what the actors, directors and special effects people had in mind.

The video is presented in anamorphic widescreen at a ratio of 2.35:1 as seen in the theater. The transfer is also flawless and while not very colorful it was meant to be that way. It gives you and idea of how gloomy and distorted Jack's life really is.

The extra's are very extensive. You are treated with a huge list of cast biography's. Not only that but there are more trailers, TV spots, internet Ads, and music video's then 10 other DVD's put together! Add on a nice deleted scene section, the commentary tracks mentioned earlier, an art gallery, and a production featurette. This has been titled one of the most comprehensive DVD's to date, and it is jammed pack, but one would expect more from a 2 DVD Special Edition. All of this for under $20 is nonetheless worth picking up.
Please help support our site by buying this DVD title through this link. Thank you kindly.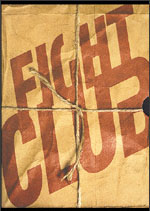 Purchase This DVD

Title Has Easter Eggs

Story / Content



Audio



Video



Extras