FOREVER MINE
Reviewed August 6th, 2002 by David Nusair
Written and directed by Paul Schrader, Forever Mine is a contemporary approach to a '50s melodrama. All the key elements are here, from the over-the-top nature of the storyline to the intensely passionate longing between the two leads.

Joseph Fiennes stars as, initially, a young man named Manuel. He's working as a cabana boy at a prominent Florida hotel when he meets a woman named Ella (Gretchen Mol), who just happens to be married to a prominent politician (Ray Liotta). Manuel finds himself drawn to Ella, and despite the fact that she's married, he pursues her. Though she initially tries warding off his advances, she's soon unable to resist and winds up having an affair with the man. Obviously, Liotta finds out and orders Manuel killed. Since only about an hour or so has passed, it doesn't take a genius to figure out that the assassination goes awry and Manuel lives.

Forever Mine proves to be surprisingly engaging; surprisingly because it's not exactly a fresh idea for a screenplay. But in the hands of a pro like Schrader, the movie becomes more than just a '50s throwback. It doesn't hurt that the two leads, Fiennes and Mol, have genuine chemistry with one another. It's hard not to root for the two, especially considering how sleazy Liotta's character is.

While the film takes a while to get going, there's a certain point at which plot twists come fast and furious. We're allowed a chance to get to know and like these characters before Schrader starts screwing with their lives. Obviously, this is effective because we're at the point where we like these people and want to see them get what they want. Liotta's character is the exception, of course, and in the hands of such a talented actor, this is someone we come to hate (in a sort of love-to-hate-him kind of way).

The only time the film really falters is in its conclusion. Schrader allows all three characters to participate in a showdown of sorts, but refuses to divulge a key element in the ending. This is essentially his way of telling us that we've wasted our time by investing our emotions in these characters, which proves to be incredibly frustrating. Still, the movie's generally entertaining and contains a trio of fantastic performances.

Audio: Forever Mine is presented with a DD 5.1 soundtrack and it's good. There's a lot of melodramatic music, not surprisingly, but it never becomes overwhelming. The dialogue is always clear enough to be coherent, so what more can you ask?

Video: This anamorphically enhanced 2.35:1 transfer is impressive, if not exactly mind-blowing. It's free of artifacting, but does contain some instances of grain (which are probably film related anyway). It could stand to be sharper, but it's otherwise fairly good.

Extras: The only substantial extra here is a commentary track with writer/director Paul Schrader. Though he runs out of things to say, he does have a lot of interesting and informative bon mots to pass on. And he even reveals that the cop-out ending was indeed a cop-out! Apparently, he couldn't decide how to end the film, so he just went with ambiguity. Weird.

Conclusion: Forever Mine is certainly worth checking out if you're a fan of any of the lead actors.
Please help support our site by buying this DVD title through this link. Thank you kindly.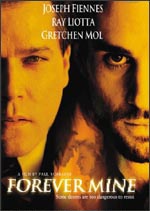 Purchase This DVD
Story / Content



Audio



Video



Extras