FREEZERBURNT CHRISTMAS, A
Reviewed November 25th, 2003 by David Nusair
A Freezerburnt Christmas is a cute yet entirely forgettable short film about Christmas (what else?) thatís elevated by above-average voice work from Saturday Night Live regulars Chris Parnell and Darrell Hammond.

The story revolves around a genial ice cream vendor named Freezerburnt who finds himself unwittingly forced to save Christmas. An evil businessman named Sualc Atnas isnít happy with the way Santaís been running the holiday, and decides to take matters into his own hands. Along with his trusty penguin sidekick, Freezerburnt sets out to stop the villainous Sualc and even manages to find time to fall in love with a cute and resourceful college student.

Itís a fairly thin premise and the execution doesnít exactly hold a lot of appeal for older viewers, but A Freezerburnt Christmas never becomes the all-out bore it often threatens to become. This is primarily due to the bright and colorful animation style, along with the enjoyably quirky voice work. Chris Parnell, an invaluable cast member on Saturday Night Live, does a fine job in bringing this self-conscious yet ultimately heroic guy to life. Likewise, Hammond is clearly having a lot of fun playing this villain and shows absolutely no fear in going completely over the top.

While the clay animation looks somewhat low-rent in comparison to movies like Toy Story and Finding Nemo, it suitably brings an old-school Christmas special feel to the production. And the filmís message, having to do with the value of family and self-confidence, is a fine one for little kids.

All in all, A Freezerburnt Christmas is a worthy addition to the pantheon of holiday specials.

Audio: Thereís nothing terribly special about this audio track, which presents the movie in Stereo Surround. But it gets the job done.

Video: The transfer fares somewhat better, as it is sharp and crisp. Though it never becomes quite as vibrant as a Pixar release, itís still quite impressive.

Extras: Thereís a ten minute making of featurette which is fairly informative, along with a silly trivia game aimed solely at the kiddies.

Conclusion: A Freezerburnt Christmas should enthrall younger viewers without putting their parents to sleep.
Please help support our site by buying this DVD title through this link. Thank you kindly.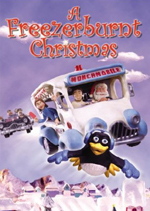 Purchase This DVD
Story / Content



Audio



Video



Extras