FRIDA
Reviewed June 18th, 2003 by Dan Jones
Directed by Julie Taymor and fueled by Salma Hayek, Frida is the story of the famous Mexican artist, Frida Kahlo. Make no mistake though, this is more then a simple biography; this is an exceptionally acted film, with a remarkable visual style.

Frida Kahlo, played by Salma Hayek, represents an individual that lives life on her own terms, a woman who was able to overcome a horrible trolley accident that nearly destroyed her back, and go on to become one of the most famous Mexican artists of her time. Most of the story revolves around her relationship with the renowned muralist, Diego Rivera (played by Alfred Molina), their trials and tribulations, their sexual infidelities, and more importantly, their art. Although, because of this decided angle for the film (focusing more on relationships, then art), we do not delve into great detail of Frida herself, and more importantly, her work. Thankfully, the visual style chosen for the film helps to counter the lack of actual artwork, by rendering the film's look into what one could describe as beautifully crafted art, with an exceptionally vibrant and imaginative color palette.

Salma Hayek obviously loved this part (and was the main driving force behind getting the film made), as she puts in a stellar acting performance. Adding to the acting talent are cameos from Antonio Banderas, Edward Norton (as Nelson Rockefeller), Geoffrey Rush, and Ashley Judd.

Presented in 1.85:1 anamorphic widescreen, Frida looks exceptional. The visual style of Frida is gorgeous and this transfer renders it impeccably. We have hugely vibrant colors, rich and solid blacks, accurate flesh tones, and excellent detail. Neither compression problems nor much in the way of edge enhancement was noticed. Excellent work.

On the audio side, we have a solid 5.1 Dolby Digital mix that is anchored by an excellent score by Elliot Goldenthal, but provides little in the way of surround activity. Dynamic range seems very good and dialogue is crystal clear, yet most of the non-music sound is going to be coming from the front. Not the most active mix, but it does the job.

Starting the extras, we have a very informative audio commentary by the film's director, Julie Taymor. Taymor delves into all aspects of the film, from the technical side, to casting, to budget limitations, as well as a bit on the story. Definitely worth a listen for any fan of the film. We also get a segmented audio commentary with the film's composer, Elliot Goldenthal. This commentary only runs on a few scenes that are selectable through a menu.

Next, we have a near 40-minute interview with the film's lead proponent, Salma Hayek. There are some interesting tidbits to be found here, though perhaps less then what one would expect considering its runtime.

Next, we have two interviews with Julie Taymor, one being a half-hour Q&A with the American Film Institute, the other being 19 minutes with Bill Moyer. Both interviews are good with little overlap in content covered. The AFI interview delves more into the technical aspects of the film and its production, while the Moyer interview goes more into story and the film's style.

"The Vision of Frida" runs a scant six minutes and delves into the process of making the film's look accurate to the time. Next, we have the most promotional in nature of the featurette in "Portrait of an Artist," which does little more then talk about the film without going into much of any interesting details.

Next we a two short featurettes on the music of the film, one showing Selma Hayek recording a song for the film, the other being an interview with Goldenthal by Hayek. The interview is pretty much used as an avenue to congratulate the composer on his work.

Rounding out the extras, we have a featurette that gives us a look at locations used in the film, more interviews, this time with Lila Downs and Chavela Vargas, and featurettes dealing with the film's visual FX's ("Amobea Proteus" and "The Brothers Quay") and production design.

Frida is a well-acted and incredibly stylish film revolving around an amazing individual. While the film fails to delve much into Frida's art, it does cover quite a bit of her life and relationship with Diego Rivera. This two-disc set provides an excellent video transfer, solid audio, and a nice collection of extras making it an easy recommendation.
Please help support our site by buying this DVD title through this link. Thank you kindly.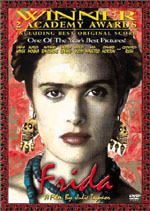 Purchase This DVD

Purchase Promo Poster

Story / Content



Audio



Video



Extras