FOR YOUR EYES ONLY (SE)
Reviewed December 13th, 1999 by Staff
Here's one of the only Roger Moore Bond films worth buying, if you must. Ok, before the hate mail, do I have to remind you about Moonraker? Perhaps Moonraker made For Your Eyes Only what it is. Following the most ridiculous film of the series, For Your Eyes Only is an excellent Bond film, other than that old man running around pretending to be 007. The director, on the commentary track, claims that he tried to make Moore's Bond more Connery-esque in this film. Despite the obvious apples and oranges arguments, it makes for an excellent film.

The story is one of the better Bond plots. Basically, the bad guys, some Greek Mafiosos, steal a high-tech weapon controlling thingy from a British spy ship. Bond pursues the baddies and much fun and witty quipping ensues. All performances are Bond adequate, and the film looks like it was really expensive to produce. The action shots are filled with footage of crowds watching winter Olympic athletes train. It's a big step up from the plywood sets on Man with the Golden Gun.

For a movie from the early 80's, this anamorphic transfer looks excellent. The DVD defies its age. This isn't to say that there isn't the occasional scratch; but all things considered, it's all forgivable. The transfer is 2.35:1.

Kudos to MGM for going back and creating a 5.1 soundtrack for the disc. While the sound is occasionally distorted from the manipulation, all in all this sounds like a current DVD (though not a current Bond DVD). The new 5.1 mix is much more active than the rarely present 5.1 mix on Thunderball SE.

Of course, being a special edition DVD, the extras are the draw. Pop the disc in and the haunting, opening DX-7 bars of the Sheena Easton title track swell through the speakers. These are cool menus. Also, there's the Bond SE- standard 2 commentary tracks, multiple documentaries, trailers, etc. The Director commentary sounds like stitched-together interview footage, with additional narration by a Bond expert. The special effects commentary sounds as though it is screen-specific. Once again, excellent job, MGM.
Please help support our site by buying this DVD title through this link. Thank you kindly.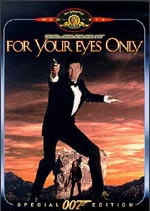 Purchase This DVD
Story / Content



Audio



Video



Extras