GACY
Reviewed June 6th, 2003 by David Nusair
Gacy is the latest serial killer movie to hit video store shelves (after flicks like Dahmer and Ted Bundy), and despite the compelling subject matter, the film completely fails to make any kind of impact. Director Clive Saunders (along with co-writer David Birke) take the real-life figure John Wayne Gacy, who murdered dozens of teenaged boys and buried them in his basement, and turn him into a complete bore. In their film, Gacy is a man more concerned with his pest problem than anything else. We barely learn a thing about the man, other than the fact that his father abused him and he hates his wife.

Mark Holton (best known for playing Francis, Pee-Wee's arch nemesis, in Pee-Wee's Big Adventure) stars as Gacy, and his performance is just about the only effective element the film has going for it. Holton doesn't take the easy way out with his portrayal by turning Gacy into a clear-cut monster; he brings a certain sense of confusion and helplessness to the character. It's impossible to know how close his performance is to the real-life Gacy, but Holton does a nice job of depicting more than just Gacy's perversions. And though it's impossible to ever look at the actor without thinking of Francis (really, how can you not imagine Francis chewing on that trick bubblegum), Holton comes awfully close to leaving his '80s roots behind.

Unfortunately, though, Holton's layered performance is no way indicative of the rest of the film – which is plagued by inept writing and direction. Gacy was infamous for making a living as a birthday party clown, but the film barely touches upon that aspect of his life. Instead, the film revels in the mundane aspects of his existence – from his squabbles with his wife to his obsession with solving the bug problem in his house – and doesn't offer up a single explanation for his murdering lifestyle. It all seems to come back to his relationship with his father, but aside from a brief sequence at the beginning of the film, even that aspect of Gacy's life receives minimal treatment.

There's really not much worth recommending about Gacy, save Holton's eye-opening performance. Serial killer aficionados will be disappointed by the film's refusal to get inside Gacy's head, while a lack of concrete information about his life is sure to turn off viewers without a basic understanding of the Gacy legend.

Audio: Gacy is presented with a DD 2.0 soundtrack, and it gets the job done. This isn't a film with a whole lot of surround effects, but the ample dialogue is crisp and clean.

Video: This full-frame transfer, though, leaves a lot to be desired. Unless the film was shot utilizing a full-frame aspect ratio (which is possible, since it was direct-to-video), there's absolutely no reason why a letterboxed transfer shouldn't have been used. But aside from that, the transfer is nothing special; the whole film has sort of a dull look about it, which may just be the intent.

Extras: The only real extra here is a commentary track featuring Holton, along with producers Larry Rattner and Susan Rodgers. This is, by far, a lot more entertaining than the feature itself, as the three have a lot of interesting tidbits to share. This is certainly a must for fans of the film. A trailer is also included.

Conclusion: Gacy is ultimately a forgettable and pointless look at a man that deserved better.
Please help support our site by buying this DVD title through this link. Thank you kindly.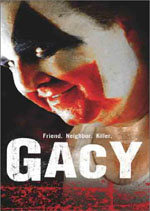 Purchase This DVD
Story / Content



Audio



Video



Extras