GALAXY QUEST
Reviewed May 15th, 2000 by David Colby
Tim Allen, Mr. Fixit in charge of a spacecraft? Stranger things have happened. Tim Allen Plays Commander Tagert. A has been Actor of a highly successful Science Fiction show finds himself strangely enough in the exact surroundings he has spent his last 20 years in, but now it is all real! This movie will have you laughing and cheering on the good guys. You will get a feeling of Deja Vu as it mocks several other Sci-Fi movies out there including Star Trek, Star Wars and even Battlestar Galactica. In a way this is a spoof movie with a serious twist. A unique twist on Sci-Fi and very entertaining. So how did the DVD turn out?

The Audio is, as is expected, Dolby Digital 5.1 and good. Notice I did not say Great! The use of Surrounds is not at the level of some of the best DVD's out, but nonetheless you will be engulfed in a great sound field. The sound is crystal clear and you will get to hear every laugh and bomb!

The disappointment is found in the Video! The transfer has a soft feel to it. The edges are not sharp and you feel as if you hare viewing the film through a very thin film. While not distracting it is noticeable. The video was transferred, as should all videos on DVD, in Anamorphic Widescreen. The widescreen ratio is that of its theatrical viewing of 2.35:1.

The extra's are plentiful and include deleted scenes, always a great addition to any DVD! You will also be treated with a Featurette, Thermian Language Audio Track, Theatrical Trailer, Cast & Filmmakers' Bios and even Production Notes. Even the menu's are well done. Overall a great package. If you can find this one for under $20 and you are a Tim Allen fan or just like goofy Sci-Fi Movies then add this one to your collection.
Please help support our site by buying this DVD title through this link. Thank you kindly.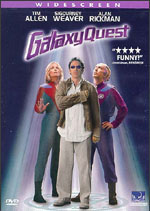 Purchase This DVD

Title Has Easter Eggs

Story / Content



Audio



Video



Extras