GHOSTBUSTERS
Reviewed July 12th, 1999 by Staff
Who you going to call? GHOSTBUSTERS! Now over 16 years old this classic comic horror has hit DVD! Columbia has done what must be one of the best restorations of an older film to date, more on that in a second. Bill Murray, Dan Aykroyd, and Harold Ramis come together as the Ghostbusters! The movie starts with a group of doctors that had a comfortable living doing research at a university, when the dean throws them out on their ear. Now out of work the three come up with a system to track and trap ghosts. The uses of real special effects are the cornerstone of the movie. Most effects were not computer driven. Most are paintings or other manually rigged effects. It is amazing what they accomplished. Soon Ghostbusters became a household name! These three battle Onionhead , Gozer, and eventually a 150ft. Stay Puff Marshmallow man! Can they save the city? Never has one movie in the history of film come up with some many one-line phrases that caught on after the movie release ("We came, we saw, we kicked it's ass")! This film can be enjoyed people 4 years and older! Definitely a great family movie, now on with the critique of the remastered film.

For a 1983 film it is not uncommon to have heavy grain and a washed out look to the film. Columbia treats us to what has to be one of the best remastered video's available on DVD. Some current films have not looked this good on DVD! The colors were vibrant and very dark when needed! Very little, if any, grain could be seen! The movie is presented in widescreen format in its original theatrical aspect ratio. Top notch work! With such a stupendous Video could the audio hold up?

Not only does the audio hold up the new remastered 5.1 is remarkable. While not as clear and crisp as some modern day audio tracks, it will not disappoint. The throw if the switches on their proton throwers will make your seat rumble! There is in most parts of the film, full use of each channel. On top of this, Columbia added 3 commentary tracks. The first is a simple subtitle of the special effects, the next is almost a mystery science 3000 look performed by Harold Ramis, Ivan Reitman and Joe Medjunk. Finally there is an audio only commentary performed by the three.

These were just the beginning of the numerous extras on this DVD. Also included was a photo gallery, story boards, 2 featurettes, 10 deleted scenes, DVD-ROM web links and more. This is a timeless classic at a GREAT price!!
Please help support our site by buying this DVD title through this link. Thank you kindly.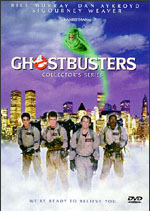 Purchase This DVD
Story / Content



Audio



Video



Extras