GHOSTBUSTERS 2
Reviewed January 29th, 2000 by Andrew Stoakley
In 1984, the world was introduced to three lovable ghost hunters: Dr. Peter Venkman (Bill Murray), Dr. Raymond Stantz (Dan Aykroyd) and Dr. Egon Spengler (Harold Ramis). Of course, the "Ghostbusters" became one of the most successful movies of all time grossing a domestic total of $238,600.00. Five years later, our fallible heroes return once again to save New York City and the rest of the world from evil doings of one 16th century sorcerer named Vigo the Carpathian (a real nasty fellow). All the usuals return for this sequel including: Sigourney Weaver as Dana Barrett, Rick Moranis as the lovable Louis Tully, Annie Potts as bitter receptionist Janine Melnitz and finally, known to the world as the "forgotten Ghostbuster", Ernie Hudson as Winston Zeddemore.


How Does The Disc Look?

The special edition of "Ghostbusters" had a wonderful, if not spectacular video transfer and with "Ghostbusters 2" (G2) you can tell where the money went. However, that's not to say that the video quality of G2 is anything but poor, it just doesn't appear to be spectacular. Colors are neutral with no appearance of bleeding reds and blacks are deep and dark. To sum up the video quality of G2 is to say that it is simply a nice transfer.


How Does The Disc Sound?

Flipping back and forth between the two channel stereo and 5.1 remix you get a great sense of where all the audio extras were added for this DVD. First off, the bass channel really comes to life when needed, especially the scene where Dr. Stantz gets lowered into the river of slime. You can feel the river flowing and pulsating along the way as if it were really mad "mood slime." The center channel was quite excellent with no noticeable pops, clicks or hisses. Randy Edelman's score comes alive, sounding full and rich without overpowering dialogue or sound effects (a task which is none to easy and often done poorly with most mixes). The audio on this DVD is superb. In fact, it's so good you'll find yourself singing or humming along to that annoying title track by Ray Parker Jr. and if a DVD can accomplish that, well then... enough said.


What Extra's Do You Get?

Here is a quick list of all the extras you will find on "Ghostbusters 2"
- Both widescreen 2.35:1 non-anamorphic and 4:3 pan and scan
- 5.1 and 2.0 Dolby Digital mixes
- Spanish stereo and Portuguese mono soundtracks
- 7 different types of subtitles including: English, Spanish, Portuguese, Mandarin, Cantonese, Korean, and Thai
- Both trailers for Ghostbusters and Ghostbusters 2
- Talent bio's and filmographies
- And a nice little set of production notes.


Not as extensive as "Ghostbusters", but hey, anything is better than nothing.


Well?

"Ghostbusters 2" is good movie. Most people say that a sequel is not as good as the original and in most cases that is true. However, with "Ghostbusters 2" you get the same cast battling the same types of evil, just is different circumstances and with basically the same results. "Ghostbusters 2" is good DVD and one you should have for your collection. On a side note, praises for Peter MacNicol as "Yanosh Poha" who adds some great comedy to this movie. His accent (whatever you would like to call it) makes you crack up every time you hear it. Classic line from the movie is when Dr. Venkman asks Yanosh where he is from, referring of course to his "crazy" accent, to which he replies "the upper West Side." Overall, a fun DVD to have for your collection.
Please help support our site by buying this DVD title through this link. Thank you kindly.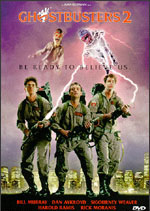 Purchase This DVD
Story / Content



Audio



Video



Extras