GHOST WORLD
Reviewed February 4th, 2002 by Dan Jones
Ghost World is a tough movie to describe. Based on the comic book by Daniel Clowes, Ghost World revolves around the life of Enid and Rebecca, played by Thora Birch and Scarlett Johansson respectively, as the two graduate from High School and attempt to enter their adult lives.

Enid and Rebecca are not like the others in their graduating class. They do not revel in their completion of High School as some major, unexpected turning point in their lives as many of their class members see it. Some might consider Enid and Rebecca the outcasts of the society, but Ghost World attempts to put them in a different light. Instead of being just bitter people, we see these two characters as being correct in their cynicism on society; that we sometimes take things far too seriously.

Yet, Enid and Rebecca definitely have their quirks. One of their most liked hobbies is to follow, scrutinize, and sometimes humiliate random people. One of these people that fall into their trap is Seymour, played brilliantly by Steve Buscemi. After the girls fake a response to a random personal ad, Seymour enters the film. Once his non-existent date does not arrive, the girls follow him back to his home; and eventually run into him at a garage sale where Seymour is selling various old records; sending Enid home with a record that is a personal favorite of Seymour. Eventually, Enid becomes quite infatuated with Seymour…while in the process losing touch with Rebecca whom tries to move forward with her life with a new job and a new apartment.

Without delving too much more into the plot, I really enjoyed Ghost World (this was my second viewing of the film). Some might find the ending a bit disconcerting, but I feel it makes sense, and is really one of the only ways the movie could have ended without negating what it had been saying throughout.

On a side note, I originally saw Ghost World at my University's free campus cinema; which is essentially a lecture hall with a projector and a couple speakers. Nevertheless, it's free, and where else were we going to see this film? Ghost World began to role and instantly I knew we were in for trouble, as the left speaker sounded like it was falling apart, and a baseball was rolling around inside of it. The picture was just about horrible, looking like something out of the late 70s early 80s, but, like I said, it was free. Therefore, I was obviously quite interested in how the film was supposed to look and sound, and the DVD gave me just that.

Ghost World is presented in its original theatrical 1.85:1 aspect ratio, in anamorphic widescreen. The transfer is very clean and free of any scratching or blemishing. Colors are nice and vibrant without bleeding; contrast is good with lifelike flesh tones. I noticed no problems with edge enhancement, or compression artifacts. While the image is a bit soft at times, detail is still good throughout. Overall, this is a very solid transfer, with few to no problems.

Audio wise, Ghost World is given a nice Dolby Digital 5.1 track. Of course, since Ghost World is a fairly quiet movie consisting of mostly dialogue and occasional music, this mix is not overly enveloping. Yet, the track is clear and detailed, which, in my opinion, is just about the most you can ask for from a movie of this type. Your surrounds will be quite bored for this one, leaving the brunt of the work to your front three. Overall though, this is a nice and clear mix; no one should be disappointed in it.

English, Spanish, and French subtitles are also included, along with English Closed Captioning.

Extras wise, MGM provided us with a somewhat under whelming amount of supplemental material.

Starting it out we have four deleted/alternate scenes. These scenes are quite short and really add nothing, besides some more humor in the parking lot fight (which account for two of the alternate scenes). No audio commentary is included with these.

The Making of Ghost World is another one of those promotional fluff pieces that are just about useless to watch before or after the film. Little to no insight is actually offered into the making of the film… this just seems recycled. Although we do find out how Ghost World got its title.

Next, we have the very strange Jaan Pehechaan Ho music video from the 1960s. This is definitely worth a watch if for nothing more then its overall bizarreness. This video is teased at in the opening scene of the film.

Finally, we have the standard theatrical trailer and a promo piece for the Ghost World soundtrack, as well as few oddly chosen trailers from MGM (Terminator Special Edition DVD???).

In my opinion, Ghost World was one of the best movies of 2001. The acting is superb, the story is intriguing and quite funny at parts, and the ideas are well thought out. If you're a fan of film there is a good chance you'll enjoy the movie; if you can make it past the ending. MGM has provided us with a solid DVD, with very nice video and audio, and at least some extras. This one is a must purchase. Highly recommended.
Please help support our site by buying this DVD title through this link. Thank you kindly.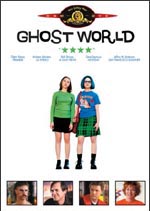 Purchase This DVD
Story / Content



Audio



Video



Extras