GLORY (SE)
Reviewed June 3rd, 2001 by Len D. Martin
Cast: Matthew Broderick (Colonel Robert Gould Shaw), Denzel Washington (Trip), Cary Elwes (Major Cabot Forbes), Morgan Freeman (Sergeant Major John Rawlins), Jihmi Kennedy (Jupiter Sharts), Andre Braugher (Thomas Searles), John Finn (Sergeant Major Mulcahy), Donovan Leitch (Charles Fessenden Morse), J.D. Cullum (Henry Sturgis Russell), Ronreaco Lee (Mute Drummer Boy), Alan North (Governor John Albion Andrew), Bob Gunton (General Harker), Cliff De Young (Colonel James M. Montgomery), Christian Baskous (Edward L. Pierce), Jay O. Sanders (General George Crockett Strong), Raymond St. Jacques (Frederick Douglass).

Director: Edward Zwick.

Story: Based on the real Robert Gould Shaw's letters, and the books "Lay This Laurel" by Lincoln Kirstein, and "One Gallant Rush" by Peter Burchard, "Glory" focuses on the 54th Regiment of Massachusetts Volunteer Infantry, the first unit of black troops raised by the Union, which fought under the command of Col. Robert Gould Shaw. Mostly made up of freedmen and runaway slaves, they follow Shaw to boot camp, hoping to become fighting men. There the troops not only endure relentless training but also the racism of the white enlistees and officers. The blacks are denied shoes and uniforms, and only reluctantly issued rifles. When the regiment anxiously marches South, ready for combat, they are assigned to do menial work and the mindless looting of civilian villages, which they resist. Shaw, badgering his generals to let his men prove themselves in combat, eventually blackmails a general who has been profiteering in contraband and army equipment. He reluctantly gives Shaw what he wants and the 54th is thrown against a sizable rebel assault. Standing in ranks, shoulder to shoulder, loading and reloading, they prove themselves heroically. The men are anxious to prove their competence further, and the opportunity quickly arises against an impregnable harbor fortification, South Carolina's Fort Wagner. The fort is heavily defended by Confederate soldiers and is an impossible target. The 54th volunteers to make the first assault, advancing through sand and marsh. Outgunned and outnumbered, the regiment storms the battlements again and again, but they are all cut down. In the morning, the black troops and the white officers are buried in a common grave on the beach by the Confederates. Half of the regiment is dead; and the fort is never taken.

Audio: Widescreen presentation in English Dolby Digital 5.1 and French Dolby Surround 2.0. Full Screen presentation in English Dolby Digital 5.1 and French, Spanish, and Portuguese Dolby Surround 2.0.

Video: Presented in anamorphic widescreen 1:85.1 - Enhanced for 16x9 televisions, and Full Screen 1.33:1. Subtitles presented in English, French, Portuguese, Chinese, Korean, Thai, and Spanish.

Extras: Disc One: Widescreen Presentation; Picture-In-Picture Video Commentary Featuring Ed Zwick, Morgan Freeman & Matthew Broderick; Director's Audio Commentary; Animated Menus; Scene Selections with Motion Images. Disc Two: Full Screen Presentation; Director's Audio Commentary; Documentary: "The True Story of Glory Continues" - Narrated by Morgan Freeman; Exclusive Featurette: "Voices Of Glory"- consisting of the reading of actual Civil War letters; Original Featurette on the Making of "Glory"; Two Deleted Scenes; Theatrical Trailers; Talent Files; Scene Selections.

Comments: Winner of Three 1989 Academy Awards for Best Supporting Actor (Denzel Washington), Cinematography, and Sound, "Glory" is a film that belongs in any collection. The story, the visuals, the acting, and the score by James Horner are all excellent. The documentary, "True Story of Glory Continues", narrated by Morgan Freeman, is nothing short of excellent. It continues the story of the 54th Massachusetts, after half of the regiment was defeated at Fort Wagner, South Carolina. If you have the earlier single disc and have thought about upgrading, or if you have put off getting this edition, then I recommend getting it. You will not be disappointed.
Please help support our site by buying this DVD title through this link. Thank you kindly.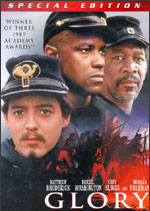 Purchase This DVD
Story / Content



Audio



Video



Extras