GODFATHER COLLECTION
Reviewed October 7th, 2001 by John Randall
"In Sicily, women are more dangerous than shotguns."

You know, I don't remember the last time I actually sat down to watch these most awesome mob movies. In fact, even though I love the first two movies – I don't think I actually have seen Part III until now. Oh well. I do have to say that Francis Ford Coppola's filmmaking rocks.

The three films are about the Corleone family – generations of them. Stars like Marlon Brando, Al Pacino, Robert Duvall, James Caan and Andy Garcia embrace the storyline and all do an exceptional performance.

These are strong films that show a different side of the mob. I really enjoy movies like Goodfellas, Casino and such, but these films have a different edge than those others. You can really get into the characters and the plot. Can anyone actually say they could get the horse's head in the bed sequence out of their head?

The video of all the movies is presented in approximately 1.78:1 anamorphic widescreen and vary in detail. Of course the newer the film (1972, 1974 and 1990 respectively) the better the overall presentation of the transfer.

The audio is presented in Dolby Digital 5.1 and also varies on each film. None of the films have highly active bass or anything like that, but essentially the mixes are mono. However, the sound is pretty clear throughout all three films.

This DVD set is broken across five DVD discs: one for the first movie, two for the second, one for the third and one for the extras.

Extras include audio commentary by Francis Ford Coppola, a nice documentary, 5 featurettes, two still galleries, some additional scenes, an interesting look at a complete storyline of all three films, trailers for each film, and more. There might even be a hidden easter egg or two but we're not giving that away just yet.

Overall, many people have been waiting for these movies and we finally got them. The video and audio quality may not be as awesome as I had hoped, but this set is still very highly recommended!
Please help support our site by buying this DVD title through this link. Thank you kindly.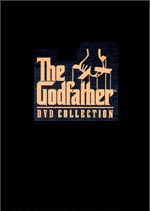 Purchase This DVD

Title Has Easter Eggs

Story / Content



Audio



Video



Extras