GOLDFINGER (SE)
Reviewed November 10th, 1999 by Staff
Goldfinger is the quintessential James Bond film. It created the template which all future Bond films would follow. All of the charm of the Bond experience is best illustrated in Goldfinger. In the movie, a bad guy named Goldfinger will stop at nothing to add to his gold collection. Bond gets in the way, a girl gets painted gold, and there are lots of fights and car chases. There's also a henchman with a cool hat trick.

Connery is in great command of the role, in his third Bond picture. Gert Frobe is the perfect Bond villian: "No Mr. Bond, I expect you to die!" Goldfinger is the first movie to feature Q.

The contents of the Goldfinger Special Edition DVD were previously available on an expensive Laser Disc (in fact, the commentary refers to "This Laserdisc..."). Now, the consumer can have all this great stuff for thirty bucks; and the picture's better.

Speaking of the picture, MGM has done a wonderful job with the anamorphic, widescreen transfer. While some film blemishes are visible, they are few and forgivable. The colors are very good.

The sound on Goldfinger SE is 2.0 digital stereo. The sound is acceptable for a film of Goldfinger's age; it just isn't noteworthy. The music for the excellent theme is satisfactory.

While the picture and sound are good for a 35-year-old film, the extras on this DVD are fantastic; especially considering Goldfinger's importance to the series. Like most of the other DVDs in the first wave, there are two commentary tracks. The commentaries are bits from interviews stitched together and presented at the appropriate time. A narrator fills in the gaps. The disc contains "The Making of Goldfinger," and "The Goldfinger Phenomenon" documentaries. Also included are numerous television, radio and theater advertisements. The package is rounded out by numerous stills and the Playstation ad.

While Goldfinger doesn't pack the DVD bang found on the Brosnan DVDs, it's certainly worth owning.
Please help support our site by buying this DVD title through this link. Thank you kindly.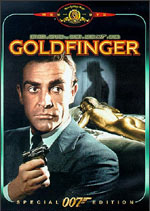 Purchase This DVD

Title Has Easter Eggs

Story / Content



Audio



Video



Extras