GONE IN 60 SECONDS (1974)
Reviewed January 28th, 2001 by Len D. Martin
Cast: H.B. "Toby" Halicki (Maindrian Pace), Marion Busia (Pumpkin Chase), Jerry Daugirda (Eugene Chase), James McIntyre (Stanley Chase), George Cole (Atlee Jackson), Ronald Halicki (Corlis Pace), Markos Kotsikos (Uncle Joe Chase), Parnelli Jones (Himself), J.C. Agajanian (Himself).

Director: H.B. "Toby" Halicki (Also writer, producer, and stunt driver)

Story: Maindrain Pace, a professional car thief, uses his skills in insurance investigation and automotive technology to great financial advantage. He can steal a locked car in less than a minute. Given and assignment to steal 48 cars in a weekend, Pace and his gang of thieves set out locating and stealing the cars. Using the names of girls as codes for the cars, they manage to steal 47 cars, but the 48th car "Eleanor", a 1973 Mach 1 Ford Mustang, has eluded them. When one of the cars stolen is found to contain a cache of Heroin, Maindrain wants to get rid of it as he will have nothing to do with drugs. This sets into motion a fight between him and his brother Corlis, who wants the drugs. Maindrain gets rid of the car and drugs and his brother seeks revenge by reporting to the police where the next theft will take place. Maindrain locates "Eleanor" and the chase is on. For the next 40 minutes you are in for a thrill ride you will never forget as 93 cars are demolished in a seven-city chase thru Southern California.

Audio: The sound has been remastered in Dolby Digital 5.1 Surround Sound, Dolby DTS Digital 5.1 Surround Sound, and Dolby Pro-Logic Surround Sound and is outstanding.

Video: Re-mastered in Non-Anamorphic Widescreen 1:85.1. The color is excellent with no bleeding or pixilation.

Extras: Introduction of the movie by Toby's widow, Denice Halicki; Never before seen footage; Interviews with Lee Iacocca, Parnelli Jones, J.C. Agajanian, Jr., Bobby Ore; 300 never-before-seen "Behind the Scenes" photos; Around the World Poster Gallery; Audio Commentary by Cinematographer Jack Vacek and Editor Warner Leighton; Trailers for the remastered "Gone in 60 Seconds, the original "Gone in 60 Seconds" 1974 trailer, and a trailer for "The Junkman", Toby Halicki's second feature; a Hidden Extra; and DVD-ROM Website and photo access.

Comments: Although the acting is amateurish, the reviewer highly recommends this DVD for the following reasons: It is the 25th Anniversary edition that has been flawlessly re-mastered; the 40 minute chase thru Southern California; the commentary explanation of the chase scene as it is happening, and which scenes during the chase were added later, and the ENDING! - You have to see it to believe it.

Hidden Extra: From the disc's main menu go to the 'Credits.' There, highlight the menu entry for the 'Main Menu' and then press the 'Up' arrow key on your remote control. This will give you access to some special footage hidden on the disc. It is a special version of the movie, allowing you to watch the entire movie in only 9 minutes!

Notes: "Toby" Halicki was 48 when he was killed August 20, 1989 while filming a stunt for his sequel, "Gone in 60 Seconds II, The Slasher".
Please help support our site by buying this DVD title through this link. Thank you kindly.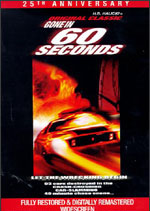 Purchase This DVD
Story / Content



Audio



Video



Extras