GONE IN 60 SECONDS (2000)
Reviewed January 28th, 2001 by Len D. Martin
Cast: Nicolas Cage (Randall "Memphis" Raines), Giovanni Ribisi (Kip Raines), Angelina Jolie (Sara "Sway" Wayland), T.J. Cross (Mirror Man), William Lee Scott (Toby), Scott Caan (Tumbler), James Duvall (Freb), Will Patton (Atley Jackson), Delroy Lindo (Detective Roland Castlebeck), Timothy Olyphant (Detective Drycoff), Chi McBride (Donny Astricky), Robert Duvall (Otto Halliwell) Christopher Eccleston (Raymond Calitri), Vinnie Jones (The Sphinx), Grace Zabriskie (Helen Raines).

Director: Dominic Sena

Story: When Kip Raines bungles a car heist and leads police to a car theft ring, mobster Raymond Calitri decides Kip must die for his mistake. Enter Memphis Raines, retired car theft king, who is forced out of retirement to save his brother Kip. He is given the ultimatum of stealing 50 cars in 48 hours or Kip dies. Meanwhile, Detectives Castlebeck and Drycoff, who are after Calitri, have learned that Memphis is back and has been hired by Calitri. When Memphis recruits his old gang and they go into action heisting the cars, surveillance is set up hoping to trap Memphis and his gang and lead the detectives to Calitri. All action comes together at the end when Memphis steals the final car, "Eleanor", and the chase leads to Calitri's junkyard.

Audio: Presented in 5.1 Dolby Surround with French and Spanish Language tracks and Spanish subtitles. The 5.1 Surround rocks.

Video: Presented with an anamorphic widescreen presentation at an aspect ratio of 2:35.1 The colors are vibrant with no bleeding.

Extras: Exclusive 'Behind-the Scenes" Featurette created for this DVD; "Action Overload" highlight reel featuring spectacular action scenes - Music Video style; Conversation with Jerry Bruckheimer on the role of Producer; The Cult Music Video; and the original Theatrical Trailer.

Comments: This film is based on the 1974 film of the same name and that is about all it has in common with it. It is a totally new story with just a hint of reference to the older film, a customized 1967 Shelby GT 500 as "Eleanor". Taken on its on merit, this new version of "Gone in 60 Seconds" is your typical Bruckheimer action film.
Please help support our site by buying this DVD title through this link. Thank you kindly.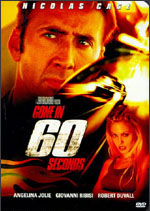 Purchase This DVD
Story / Content



Audio



Video



Extras