GREENFINGERS
Reviewed June 4th, 2002 by David Nusair
Greenfingers is the latest innocuous – yet surprisingly effective and charming – comedy to emerge from the United Kingdom. These imported funny flicks always seem to essentially be about the same thing: A bunch of good-natured guys set out to accomplish a seemingly insurmountable task.

In the case of this movie, it's about a group of prisoners that wind up gardeners (good gardeners, at that). Leading the pack is an quiet and withdrawn fellow played by Clive Owen, who, as the movie opens, is finishing up his sentence by serving at an "open" prison. This basically means that the convicts are free to try and escape if they wish, but if they're caught, they're sent right back to a much harsher pen. Each inmate is assigned a job to do, in order to prepare them for post-prison life. Owen is given the rather unsavory job of janitor (he cleans toilets, mostly). His cellmate is an older man (played by Waking Ned Devine's David Kelly), who gives him a packet of flower seeds as a gift. Owen doesn't think much of it, but plants the seeds anyway; to his surprise, flowers soon sprout. After being told that he has a green thumb, he asks the warden to switch his job to prison gardener. Soon, other inmates join in, and the group begins attracting the attention of the outside world – most notably in the form of a renowned gardener played by Helen Mirren.

Greenfingers zips along at an agreeable pace and is full of colorfully engaging characters, but – like other films of this ilk – never really becomes anything more than an enjoyably light comedy. Unlike most American funny flicks, Greenfingers grabs its laughs from the foibles of the various characters – and not gross-out gags or potty humor. By the time the end of the film rolls around, these are people we've genuinely come to care about; something that would never be true for 90% of Stateside comedies.

The performances are all superb, but this movie belongs to Clive Owen. Though he initially comes off as unapproachable, as the movie progresses, Owen turns this seemingly dour character into a really likable guy. He's even given a love interest, in the form of Primrose – the daughter of Mirren's character. Their relationship is sweet but also believable, due in no small part to Owen's acting.

Greenfingers doesn't (and will never) break through any comedic barriers, but for what it is, it succeeds.

Audio: Greenfingers is presented with a DD 5.1 soundtrack and it's wholly unnecessary. This is a film with dialogue and lots of it. The scant surround sound is limited to the musical score, which never drowns out all that talking. But it delivers where it needs to, so it certainly works.

Video: This 1.85:1 anamorphic transfer is surprisingly good. This is obviously a colorful film, what with the various types of flowers adorning the screen, and this transfer captures that look very crisply. There's no bleeding or anything like that, which the tape undoubtedly suffered from.

Extras: Aside from trailers for Still Crazy, Living it Up, The Tao of Steve, and Greenfingers, nothing.

Conclusion: Greenfingers is an ideal flick for a lazy Sunday afternoon.
Please help support our site by buying this DVD title through this link. Thank you kindly.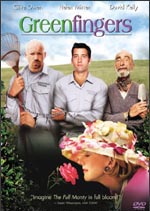 Purchase This DVD
Story / Content



Audio



Video



Extras