GREEN MILE, THE
Reviewed July 10th, 2000 by David Colby
Tom Hanks is just a cash cow!!! His newest success is The Green Mile. A great story about a Huge black guy that has a gift, but is accused and sentenced to death for a crime he did not commit. This is a great movie, but I doubt the younger crowd withstands the length of the movie. Michael Duncan plays John Coffey a simple man that has the unique gift of healing people. A god given gift to perform miracles with simply laying his hands on someone. Yet Tom Hanks has to perform the execution of an innocent man and carry the burden there of. This one is clean enough for all ages to enjoy and brings up some deep questions that will keep you thinking long after the movie is done.

The audio provided is Dolby Digital 5.1 and is crystal clear! Don't expect some awesome explosive soundtrack, because after all this is a Drama and not a hard core action film. Nonetheless you will not be disappointed with the pure fullness this film provides. You will even be able to hear the little pitter patters of Mr. Jingles.

Although the audio is excellent the video is sub standard. It is presented in Widescreen format at a ratio of 1.85:1 just like you saw it in the theater. The problem comes in when Warner attempted to fit a 3-hr flick on one side of the DVD. This of course is a problem since a 2-hr film at full DVD quality will almost fill one side of the DVD. This is kind of like the scale theory. If you add more length quality must decline. You of course know why they fit it all on one side don't you? Nobody wants a flipper. This reviewer thinks that certain movies should inevitably be placed on two sides of the DVD to improve picture and sound quality. Titanic is another of these films. Overall, the quality of the video is a bit grainy and soft. This due to the increased compression required to fit the film on one side of the disc.

The extra's are not great, but do include several nice additions. Those additions are a full Behind the Scenes Documentary, production notes and theatrical trailers. Not overly loaded, but at least it has a few unlike some Disney films. Overall if you can find this little gem for under $20 add it to your collection. Look for a two-sided Special Edition in the future with many extras like deleted scenes, director commentaries and the like. An excellent film that will have you tearing and cheering.
Please help support our site by buying this DVD title through this link. Thank you kindly.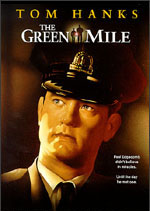 Purchase This DVD
Story / Content



Audio



Video



Extras