GREMLINS: SPECIAL EDITION
Reviewed August 14th, 2002 by Dan Jones
"Bright light! Bright light!"

Ah Gremlins, an instant cult classic. Who amongst us can say that they wouldn't like their very own Mogwai like Gizmo... sure you've got to worry about the possibility of him coming in contact with water, bright lights and food after midnight... but he's so fluffy and cute, you would take the chance. Of course if you failed...

Gremlins is just a fun film. Surely, all of you have seen it at one point in your life and if not, the plot is basically summed up in the first paragraph. We've got this creature, a Mogwai, who is purchased by Rand Peltzer from an old man in Chinatown and given to his son, Billy. This cuddly little creature comes with the three aforementioned rules, no bright light (especially the sun), no water, and no feeding after midnight (a confusing rule to say the least). Billy names this Mogwai "Gizmo" and treats it like his new, quite smart (it speaks don't you know?) - pet. Nevertheless, this is a movie and of course, after a night alone for Gizmo, the rules are broken. When a rule is broken like one of these, there is an interesting side effect; Gizmo cries out and releases these much meaner creatures, the gremlins - whose sole goal is to raise havoc. Comedy ensues and things get even more out of control.

Gremlins was always one of those classic films you looked back and laughed about. It is easy to still enjoy it and still smile throughout. Granted, its not cinematic genius, the special effects are quite dated and the sheer movie-ness factor of it is a bit high... meaning why aren't the people horrendously freaked out by Gizmo or why is he not treated like he is a horrendously important find. Nevertheless, belief is easily suspended in Gremlins. It is a cult classic and is still a fun watch so many years later. In retrospect, this was actually one of those highly controversial films for its scare and violence factors. How times have changed.

So, on to the DVD. This will be the second release of Gremlins to the DVD format, after the initial release back in 1997, which had since been discontinued. Therefore, it was time for another release. Let see how they did with this new Special Edition...

Video wise, Gremlins has been given a newly remastered 1.85:1 (actually, its more like 1.75:1 or something) anamorphic widescreen transfer that is a bit better then its predecessor, but nothing to write home about. You will find the video to be quite soft with a not too vibrant color presentation. Blacks are a bid faded and not as pure as can be found on later films - also causing shadow detail to suffer. Edge enhancement was not noticed though, which is nice as it shows that studios are starting to understand that excessive edge enhancement does not make up for a soft picture, and is best just left out of the entire process. Nicely enough this print is much cleaner and was obviously better taken care of then the original source used on the first DVD.

Audio wise, Gremlins has been given a new 5.1 Dolby Digital mix that is altogether... lackluster. Nevertheless, this is to be expected given the age and budget of the film. Dynamic range is quite limited and any solid imaging will really only take place on your front three. Overall this track is better then the original DVD, but again nothing too fantastic. The film just really sounds old by today's standards. Surround use is few and far between while the LFE gets only a minimal workout. However, it really does not detract from the film. Gremlins is an old movie, people know its old - so do not expect a miracle here. It's a small upgrade at least.

On the extras side, starting it off there are two impressive audio commentary tracks. The first by director Joe Dante, producer Michael Finnell and special effects artist Chris Walas. The second by director Joe Dante and actors Phoebe Cates, Zach Galligan, Dick Miller, and Howie Mandel (the voice of Gizmo). Both tracks are highly entertaining, with the actors track being much more of a laugh fest and the producer/director track being highly informative of all things Gremlins, from the original idea for the film, to Spielberg's entrance, etc... Both are definitely worth a listen for the big-time Gremlins fans.

Next, we have quite a short behind the scenes glimpse from way back when. This is presented in quite shabby video, but does give us a look back at how things were, including a look at Spielberg. This is a nice inclusion, to see how the film was looked at back in 1984, but you cannot help but wish it were a bit longer.

Next, we have about ten minutes of deleted scenes, which are definitely an interesting watch. These are all provided with optional commentary and are in non-anamorphic widescreen.

Finally, we have a small stills gallery, production notes, cast and crew bios, two trailers for the film, and the teaser trailer for Gremlins 2.

Overall, Gremlins is just a fun film. By this point in your life you have already decided on whether or not you like it. Therefore, if you are a big Gremlins fan then it is easy to recommend making the upgrade to this new edition; if you are just a fan of the film and have no interest in extras, you are probably safe with your original copy. Of course, if you have neither, get this one. Gremlins is a fun popcorn movie that has become a cult classic for a reason. Recommended.
Please help support our site by buying this DVD title through this link. Thank you kindly.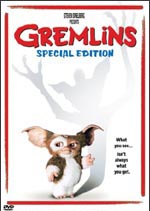 Purchase This DVD
Story / Content



Audio



Video



Extras