HOW THE GRINCH STOLE CHRISTMAS /
HORTON HEARS A WHO
Reviewed December 13th, 1999 by Staff
All the DVD fans down in Whoville liked restored animation a lot.
But the MGM Home Video Head Honcho…… Did Not!
He asked his assistant Max, "How can we make some more money?"
Those DVD buying Whos are spending plenty of money.

Then with a grinchy smile he beamed, "Of Course!"
"We'll squeeze more money out of a well-beaten dead horse!"

So they took the worst copy of How the Grinch Stole Christmas out,
They called the DVD making place and started to shout:
"Put this badly aged classic onto DVD!
We don't care how it looks, or sounds!" They chortled with glee.

The DVD buying Whos saw a terrible transfer.
With the scratches and film grain, they barely hid their anger.
But the final straw that made them scream,
Was the color of the Grinch, which varied from brown to green!

Now the Whos expected to hear tartinkers and whohonkers,
But they also got REALLY bad sound that drove them bonkers.
The stereo music mix was ordinary and bland,
Was Boris Karloff's narration recorded under a large metal can?

And if Hell ever froze over, the Whos knew what to do,
They could always pull out the disc and watch Horton Hears a Who!

It's Digital Stereo, and 1.33:1 aspect ratio,
Until they put out a better version, tell them where to go.
There are only three words to describe this shoddy kind of Junk:
They are as follows: Stink, Stank, STUNK!!!!
Please help support our site by buying this DVD title through this link. Thank you kindly.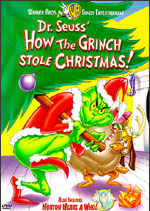 Purchase This DVD
Story / Content



Audio



Video



Extras