GRUMPY OLD MEN
Reviewed July 11th, 2001 by David Nusair
Grumpy Old Men is the film that brought the careers of both Jack Lemmon and Walter Matthau back into the spotlight. When it was initially released back in 1993, surely nobody expected it to be the hit it eventually became. In fact, it was so successful, it spawned a sequel and paved the way for further Lemmon/Matthau reunions (Out to Sea, The Odd Couple 2, etc).

The premise of Grumpy Old Men is exceedingly simple. Lemmon and Matthau play two old men that have known one another for over 50 years and have spent most of that time hating each other. Their quiet little life in small town Minnesota is disturbed, though, with the arrival of a sexy and uninhibited new neighbor (played by Ann-Margaret). Now, they find themselves competing for her affections, while various other subplots play out.

While Grumpy Old Men isn't exactly a great film, it's certainly an entertaining one. Watching two old pros like Lemmon and Matthau throw acidic barbs at each other is a lot of fun (they great each other with "moron" and "putz"). The supporting cast provides a lot of great moments as well; particularly Burgess Meredith as Lemmon's horny father (Meredith's outtakes at the end of the flick are worth the price of a rental alone).

Audio: Grumpy Old Men is presented in Dolby digital two-channel surround, but you'd never know it. Much of the audio is localized square in the center channel. But that's fine. This isn't exactly ID4. The dialogue is crisp and clear, and really, that's all you can ask for. There's also a French track.

Video: This transfer leaves a lot to be desired. For one thing, it's full-screen. And for another, it's grainy as hell. This is a slight improvement over the VHS version of the movie, but not by much. And near the beginning of the flick, the image is a little shaky (this is easy enough to observe, because the titles are static), but luckily, this doesn't last too long.

Extras: Not too much here. There are some cast bios, a few production notes (which are somewhat interesting, but way too brief), and a trailer (which is, of course, full-screen).

Conclusion: Grumpy Old Men isn't exactly a groundbreaking film, but it is an exceedingly entertaining way to watch a stellar cast do what they do best.
Please help support our site by buying this DVD title through this link. Thank you kindly.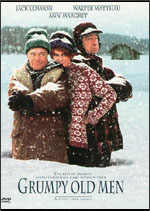 Purchase This DVD
Story / Content



Audio



Video



Extras