HAIR
Reviewed May 2nd, 2000 by John Randall
In the 1960's one of the most incredible theatrical plays hit the stage – Hair. It's a story of a man named Claude (John Savage) who comes from Middle America to check out New York shortly before he has to report to the Army to go over to Vietnam. Instead of seeing the sights, Claude meets up with some homeless hippies (lead by Berger played by Treat Williams) that take him on trip of the mind for a few days.

The movie made in 1979 (like the play) is a musical for starters, having some of the most remarkable and unforgettable songs to ever hit the stage (and the big screen). Songs like "Aquarius", "Hair", "Manchester England England" and of course "Let the Sunshine In" all make the story complete.

Among the more recognizable actors are Beverly D'Angelo (National Lampoon's Vacation), Nell Carter (Gimmie A Break) and even Charlotte Rae (Facts of Life).

The movie is wonderful just like its stage counterpart, with an ending that is powerful and could drive you to tears.

The DVD includes a 1.85:1 widescreen and a pan&scan version of the film. Overall this isn't a bad transfer at all. The beginning shows more signs of artifacts than at any other point in the movie. Contrast, black levels and sharpness aren't perfect, but they aren't totally bad considering the age of the film.

The main audio track is presented in Dolby Digital 5.1. MGM did a better job on the remix than on the transfer. The songs sound better than ever – which makes the disc even much more valuable to lovers of this movie.

Not many extras but they did include an interesting photo gallery of tons of Hair posters and a trailer presented in mono.

Overall, this is a wonderful movie and a pretty good DVD. The movie is rated PG, but watch out because it does have language and nudity. The movie runs 101 minutes.
Please help support our site by buying this DVD title through this link. Thank you kindly.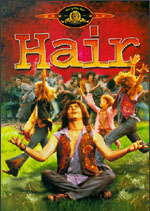 Purchase This DVD
Story / Content



Audio



Video



Extras