HAMLET (2000)
Reviewed July 22nd, 2001 by David Nusair
Perhaps spurred on by the enormous success of Baz Luhrmann's contemporary retelling of Romeo and Juliet, Hamlet has been brought back to life and this time, he's in our world.

Ethan Hawke stars as Hamlet, and he plays him as though he were the ultimate slacker. Sporting a disheveled look (complete with kicky ski hat), Hawke's Hamlet is less the vicious soldier that others have played him as, and more of a confused 20-something rebel. The eclectic supporting cast includes Bill Murray (as the ill-fated Polonious), Liev Schreiber as Laertes, Julia Stiles as Ophelia, Kyle MacLachlan as Claudius, and Sam Shepard as the ghostly apparition of Hamlet's father.

Hamlet, at a running time of just under two hours, is an exceptionally truncated version of Shakespeare's most accessible play. Like Romeo and Juliet, this is a play that most post-teenagers can relate to. Hamlet is a character that doesn't know what to do with his life, and that stress is compounded by the fact that his father was murdered (and whose ghost is now haunting him).

With this contemporary adaptation of the play, writer/director Michael Almereyda has placed Hamlet in mostly familiar territory (the famous "to be or not to be" soliloquy now takes place inside a Blockbuster video). And while he's mostly successful, he's omitted so many important sequences from the script (including Hamlet's meeting with a gravedigger and the entire Fortinbras subplot) that the movie just becomes confusing after a while.

But this is a good introduction to Hamlet. Consider it a primer for Kenneth Branagh's 4 and a half hour Hamlet opus.

Audio: Hamlet is presented in 5.1 DD and it's not bad. This is obviously not a thundering track, but everything is clear and crisp.

Video: Hamlet's theatrical ratio of 1.85:1 is resurrected with an anamorphic transfer and, in the whole, it looks great. The image is consistently sharp and vibrant, and colors look natural.

Extras: Hamlet falters in the extras department. There are six trailers but no Hamlet trailer. That's just weird. (By the way, the six trailers are: Committed, Shakespeare in Love, Reindeer Games, East is East, Stiff Upper Lips, Holy Smoke!)

Conclusion: If you've never seen a Hamlet production before, this might be a good place to start. But if you're well versed in Hamlet lore, you may find yourself underwhelmed.
Please help support our site by buying this DVD title through this link. Thank you kindly.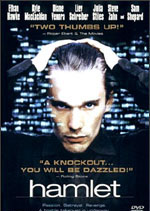 Purchase This DVD
Story / Content



Audio



Video



Extras