HANNIBAL
Reviewed September 19th, 2001 by David Nusair
Before Hannibal was released to theaters earlier this year, the buzz around it was almost deafening. Would Julianne Moore be a suitable replacement for Jodie Foster? Would Ridley Scott be able to control himself and direct the flick with a reasonable degree of self-control? And would Anthony Hopkins be able to re-visit the Hannibal Lector character with ease? Mostly, Hannibal works. It may not be the masterpiece that Silence of the Lambs was, but it's very entertaining nonetheless.

The movie opens with Clarice Starling (now played by Moore, in case you've had your head buried in the sand or something) being screwed by a hotshot NYC cop and taking the fall for mistakes in a shooting. After receiving a dressing down from her superiors, Starling is sent to an X-Files-ish basement to work on unsolved cases. Meanwhile, in Florence, Hannibal Lector has been living a quiet life and is in the midst of becoming the curator for a local museum. But his solitary existence is about to be interrupted by a greedy Italian cop out to collect the ransom on Lector established by Mason Verger, Lector's only surviving victim. Grossly disfigured, Verger wants to see Lector suffer at the hands of wild boars.

The film is surprisingly close to the novel, mostly, but there are a few deviations. That infamous ending is now different and leaves the movie open for another sequel. Some characters aren't here (most notably, Verger's pumped-up sister) and a few fates are sealed a little differently, but otherwise, director Ridley Scott has created an almost perfect copy of the book's storyline.

Of course, the big question seems to be whether or not Moore pulls off the part Jodie Foster made famous. She does. Obviously, there's not much of a physical resemblance, but she certainly inhabits the character. And it's not as though Clarice is the same now as she was ten years ago. Remember, in Silence of the Lambs, she was still training to become an agent, but now she's a seasoned (and somewhat jaded) FBI officer. I particularly enjoyed the reference to the first film early in the picture; Clarice is commanding a bunch of fellow officers, all male, and shows no sense of timidity. There's a scene in Silence of the Lambs similar to this, except she's almost afraid of speaking to all those men.

And then, of course, there is Anthony Hopkins as Hannibal. Now that Lector's got free reign (he's no longer confined to a cell), Hopkins really has a chance to put some flair into the portrayal. Some of the most exciting parts of the film are when Lector's about to kill someone. The gruesome end of the Italian detective is certainly a highlight as is his confrontation with Verger's wild boars. But I also enjoyed the dialogue scenes between Lector and Clarice, particularly their first conversation (held over a cell phone).

The problem lies, then, in the overlength of the film. While there are many exciting scenes, there are just as many sequences that seem to go on too long. I don't want to get into comparing this to The Silence of the Lambs, but where that film remained tense and suspenseful throughout, Hannibal goes through peaks and valleys. There are several sequences that rival anything found in the earlier film for pure adrenaline, but there are also several sequences that just don't work and should have been excised (or shortened, at the very least). I think a lot of this is due to Scott's excesses as a filmmaker. He's known for his love of over-the-top action and breathtaking scenery. And while Hannibal does feature plenty of those, there are several sections that are just too much.

But that's beside the point. Was it entertaining? Sure. Did it come close to the genius that was Silence of the Lambs? Not really.

Audio: Hannibal comes equipped with both a DD 5.1 and DTS 5.1 soundtrack, and to be perfectly honest, there's not much difference between the two. For comparison, I looked at the opening scene (the gunfight between Starling and some junkies). The DTS track provides a more full sound, with slightly more activity in the rear speakers, but the DD track is just as spatial. Both are incredibly active throughout the film, and provide a perfect complement to the film.

Video: Ditto the video transfer. This anamorphically enhanced 1.85:1 transfer is, in a word, gorgeous. Deep colours and sharp shapes, along with not one single DVD-related artifact, make for a near-perfect transfer. MGM obviously spared no expense in creating this transfer, and it shows.

Extras: And speaking of sparing no expense, the plethora of extras will keep you busy for hours. On the first disc, there's a commentary track with Ridley Scott. As usual, Scott provides an insightful and interesting accompaniment to what's happening on screen. He's not the sort that just describes what's occurring; rather, he prefers to explain his ideas for different scenes, whether or not a particular sequence wound up the way he envisioned it, etc. He also provides various anecdotes relating to the cast and locations – for example, he speaks about how Ray Liotta came to join the cast (they both shared a gym). A great track. Rounding out the extra features on the first disc are trailers for MGM's DVD release of Silence of the Lambs and the teaser trailer for John Woo's latest, Windtalkers. Moving onto the second disc, the major extra here is a 1 hour and 16 minute documentary called "Breaking the Silence" (which can also be watched in five different parts). This mammoth behind-the-scenes look at the movie covers everything from the casting to the various scripts that were commissioned to the production to the public's reaction of the final cut (one of the best scenes in this doc watches as a premiere audience views the infamous brain-eating scene – their reaction is one of muted horror and disgust). This is a very well thought out and consistently entertaining look at the making of the film. Every possible aspect you could think of (including an extensive look at how they did that Ray Liotta stuff; if you've seen the film, you know what I'm talking about). This doc is worth the price of the disc alone. But wait, there's more! In the next section, entitled "Multi-Angle Vignettes," there are three options. In the first option, called "Anatomy of a Shoot-out," you can watch the fish market shoot-out from for different angles, or watch all four at the same time. Next up is something called "Ridleygrams," which is basically a storyboard section. There's an interview with Scott, and several examples of his storyboards, with the option to watch just the boards, or the scene with the boards underneath it. The last section here is a storyboard/shot comparison, which covers various scenes throughout the movie. Up next is the deleted scenes section. There are 13 such sequences and a deleted ending, all available with Scott commentary. While all of these scenes are basically best kept on the cutting room floor, they're fascinating to watch (particularly a scene featuring Barney, a returning character from Silence of the Lambs – and who's role in the finished product was far too minimal). The commentary for the deleted ending also includes information about a third ending (which was never shot). Next up is an extensive marketing gallery, which includes the teaser and the trailer (non-anamorphic), 19 television spots (!), concept and final art, and still photos. The really interesting part about this section is the concept poster art. It's debatable, but some of the concept art is actually better than the final art! The final two sections are devoted to cast and crew biographies (these are actually quite informative, not to mention long), and the press notes. Whew!

Conclusion: Now, this is a DVD release! Going through all the supplemental materials would literally take hours – and that's not mention the movie itself, which ain't bad either.
Please help support our site by buying this DVD title through this link. Thank you kindly.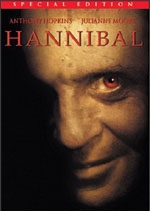 Purchase This DVD
Story / Content



Audio



Video



Extras