HARRY POTTER AND THE CHAMBER OF SECRETS
Reviewed April 4th, 2003 by John Randall
"Oh, Harry. If you die down there, you're welcome to share my toilet…"

Harry Potter and the rest of the Hogwarts gang is back! Harry Potter and the Chamber of Secrets is based on R.K. Rowling's second Harry Potter novel of the same name. This is also the second time Harry Potter has been brought to life on the big screen.

The film opens with Harry's birthday again back at his evil uncle's house. Harry gets a visit from a strange short house-elf that warns Harry not to return to Hogwarts for a second year. Ignoring the warnings, Harry meets up with his old gang including Ron, Hermione and Hagrid. They all head back off to school but not before running into his old nemesis Malfoy as well as several new characters. Slowly time passes and crazy things start to happen around the school. Who is responsible? Who will suffer? It is up to Harry to figure out who is behind it all and stop it if he can.

The film truly does have the same kind of magic as the first time around, but overall it seems a little more rushed than the first. Compared to the book, the film version will be missing plenty of details and sub-plots because of time restraints. However, so much is happening so fast in this sequel that sometimes it is hard to keep up. Since the film is already over two and a half hours long, it is easy to understand the fast pace - they did do the best that they could.

With all that said, this is a very fun adventure film and will keep a wide variety of people interested throughout its lengthy runtime. Though it should not have to be said, this truly is a film that should only be viewed after either reading or watching the first book or film.

The special effects are once again amazing. Spells, huge spiders, plants that scream and all kinds of creatures flying around - will give your eyes a wonderful treat. The score by John Williams is just as addicting as well.

This two-disc DVD set offers a lot that Potter fans (old and young) will surely enjoy.

The video is presented in 2.35:1 anamorphic widescreen (a separate pan/scan version is available). Overall, the transfer looks very good, lacking only in the detail department. The image just does not seem as sharp. Other then that colors are vibrant, contrast is good and darks and shadows look great. The source of the transfer seems clean and clear with no sign of any compression problems.

The audio is presented in Dolby Digital 5.1 EX and sounds very good. Dialogue is very clear and the score sounds awesome. There is indeed some nice deep bass and heavy surround-use in some of the action sequences. Dynamic range is excellent and imaging is solid throughout.

On the first disc, besides the main feature, is a special Harry Potter and the Sorcerer's Stone trailer, the Chamber of Secrets theatrical trailer and a cast and crew listing.

The second disc is where all the real extras are. Crazy animated menus will great you and then you will be presented with options for "Game Preview", "Extra Credit", "Spellcaster Knowledge", "Activities", "Behind Hogwarts", "Lockhart's Classroom" and "Additional Scenes".

One of the more useless extras in the set, "Game Preview" is only a preview for the Chamber of Secrets video game by EA Games. This area shows six stills that you can click on – then it shows a short scene from the game.

If you have a DVD-Rom inside your home computer, you might enjoy the "Extra Credit" area, which includes a Harry Potter timeline, games, weblinks, a screensaver and more.

If you enjoy games and love this Harry Potter episode, you will dig some of the more unique extras like "Spellcaster Knowledge". It is a simple trivia-based game asking questions about different spells that were used in the film.

One of the bigger areas to explore on the second disc is "Activities". First up is The Chamber Challenge which is a game in which you must get in and out of the Chamber by answering trivia questions and solving a puzzle or two. The Forbidden Forrest Challenge can be really fun to play at first - but can get very annoying - until you figure out the secret. In the game, you must help Harry and Ron escape the forest by maneuvering the flying car. Watch out for those spiders! Colin's Darkroom is one of the areas most people will only do once – choosing pictures from the film, you can see a slide show. Rounding out this section is Tour Diagon Alley which allows you to walk around and explore things.

If you are looking for the behind the scenes features and interviews, then you will want to go straight over to "Behind Hogwarts". You might be a little disappointed that more making-of material was not included in this release, but what is included is very interesting. Conversation with R.K. Rowling and Steve Kloves is an interview with the author and screenwriter of Chamber of Secrets. The bulk of the sixteen-minute interview is them discussing how they adapted the book to the screen. They even talk a little bit about the third book and film. Dumbledore's Office is broken down into two-subsections: 'Build a Scene' is a seventeen-minute featurette on set design, effects, scoring and more. 'Tour Dumbledore's Office' is an interactive tour (using the arrow keys) of Dumbledore's office with narration. Unfortunately, there is nothing to do except walk around and listen.

All the interviews on the disc are tucked away in the Interviews With Students, Professors & More section. There are two options: The 'Students' selection (which is broken down further or you can choose to play them all) runs just under nine minutes. This featurette shows the younger actors being asked questions like "Is making the movie fun?" and "How has your character evolved?" among other things. If you choose the 'Professors & More' selection (again broken down or you can see them all at once) you will be treated to a ten minute featurette of interviews with the older actors in the film. Included are interviews with Hogwart's personnel including the actors of your other favorites including Dumbledore, Professor Snape and even Hagard. There are also interviews with the actors that play Lucius Malfoy, Mrs. Weasley and the evil Uncle Dursley!

Rounding out "Behind Hogwarts" is Gallery of Production Sheets. There are eighteen pictures on the walls that you can choose from. Upon doing so, you are treated with stills of different concept art.

You might scratch your head after checking out the "Lockhart's Classroom" area. Photo Gallery is short feature with narration showing some crazy photographs taken during Lockhart's life. Certificates is an even quicker featurette with narration giving an overview of different certificates and awards Lockhart obtained. Required Reading is yet another short featurette about different books he has written.

Finally, fans will be happy to learn that Warner has included nineteen cut and extended scenes. If you choose the 'play all' option, you will be treated to seventeen minutes of clips that were not shown in the final film. All the clips (even finished with special effects) are presented in 2.35:1 anamorphic widescreen with a Dolby Digital 2.0 soundtrack. Some of them are very insightful, but most are just extensions of scenes that did appear in the final cut.

Harry Potter and the Chamber of Secrets is a nice follow-up to the Sorcerer's Stone DVD - it is sure to please Harry Potter fans and bring some new ones onboard. Chamber of Secrets is a fine adventure film - and the DVD is pretty solid - and very easy to recommend.
Please help support our site by buying this DVD title through this link. Thank you kindly.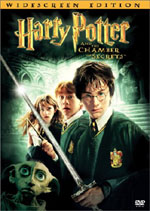 Purchase This DVD

Purchase Promo Poster

Story / Content



Audio



Video



Extras