HARRY POTTER AND THE SORCERER'S STONE
Reviewed May 13th, 2002 by John Randall
Ok, so I heard about this mega-movie coming out with tons of special effects and it was based on some best selling book. Sure, I think I heard the name "Harry Potter" when channel flipping by CNN one day. And as the movie got closer to being released, there was a lot of hype. Even though I did want to see this film when it hit theaters, I somehow missed it.

When the DVD got announced, I eagerly awaited getting it in for review. So on a casual evening, I popped some popcorn, put the disc in, and started my bewitching journey.

To save time, I'll say that the one thing I repeated after seeing the film was "Damn, I wish I had bedtime stories like that when I was a kid!"

The story opens with the viewer learning of Harry Potter (Daniel Radcliffe) and how he got to live with his horrible uncle, aunt and cousin. One day out of the blue – an owl delivers a letter addressed to Harry, but his uncle destroys it. Many owls and many letters later, Harry finds that he's invited to attend the Hogwarts School of Witchcraft and Wizardry. That's where the "wow" of the film really starts. Lots of spells, laughs, danger, and more laughs.

I found the first of the Harry Potter movies to be very entertaining, pretty good special effects, but very simple so it will be enjoyed by kids of all ages.

The video is presented in 2.35:1 anamorphic widescreen and is an excellent job by Warner. Not quite perfect, the image does seem to be grainy a few times, but sharpness is dead on and the colors are perfect.

The audio is presented in English and Spanish Dolby Digital 5.1-EX and it rocks. The sound overall may not be as intense as other movies, but they didn't need to overkill it with the kids. I thought it was quite good. Sound effects, the score, and dialogue all are dead on.

Spread over the two discs are a mega-dose of extra features. First up, on Disc 1 are two trailers and some cast & crew bios.

A lot of people are going to complain about some of the extras on Disc 2 as they are more like easter eggs. We'll go over them one by one. In "Diagon Alley" is an interactive game where you shop for supplies, in "Tour" you can taking an interactive tour of the sets, and in "Sorting Hat" it tells you the differences in the 3 groups at the school. There is also a nifty 15 minute documentary that is worth seeing under "Interviews".

There are other things like deleted scenes, more games, and other clips in the "Classroom section". Good luck finding all of them. There are also tours of the Hagrids, character bios, design concepts and more. Tons of entertainment for both the little one and everyone else.

Lastly, DVD-ROM content includes Wizard trading cards, you can receive owl emails, links to the web, and more.

The movie surpassed my expectations and the DVD met them. Good work Warner - this disc and movie is highly recommended.
Please help support our site by buying this DVD title through this link. Thank you kindly.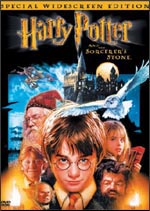 Purchase This DVD

Purchase Promo Poster

Story / Content



Audio



Video



Extras