HEARTBREAKERS
Reviewed October 14th, 2001 by James Thomas
Some movies are "renters", and some movies are "keepers". Heartbreakers is a "rent at a discount" movie.

The movie stars Jennifer Love-Hewitt, Sigourney Weaver as a pair of mother and daughter con-women. The film co-stars Gene Hackman (an appropriate last name for his character in this film), and Ray Liotta. Without giving too much away, we find our ladies involved in marry for money and divorce for more money-type cons, with both Liotta and Hackman as their "victims". The secret is to marry without getting emotionally involved, which is where Jason Lee comes in as Love-Hewitt's romantic interest. Lee puts in a weak performance, but nothing compared to Hewitt, whom I normally like. Hewitt never seems to "get into" this character convincingly, and her performance seems strained throughout the film. Weaver is slightly better, but as a comedic actress she is weak. The funny moments from this film all belong to Liotta and Hackman. Liotta is the main man in a high dollar "chop shop" operation, and a bit psycho (like all of his roles). Hackman plays the big money owner of a tobacco company, and a walking billboard for anti-smoking, though completely in denial of such. After a very predictable hour and a half of mildly funny moments, the film resolves with everyone living happily ever after. Yawn.

The anamorphic 2.35:1 transfer started off seeming a bit red to me, but seemed to correct itself shortly. I found that the transfer was actually very detailed; a little too detailed at times. Weaver needs to leave the sexy roles and sexy clothing behind; the transfer allowed me to see every varicose vein and bit of cellulite that I had never hoped to see on her: Yuck! The rest of the visuals were fine though. The 5.1 mix was fine and detailed; no complaints there. Extras were abundant (commentary, making of, many deleted scenes, trailers, etc), but I found that I wasn't really interested after seeing the film.

Rent "Heartbreakers" when you have time to kill on a dollar night, or just watch the trailers; the best laughs are on those anyway.
Please help support our site by buying this DVD title through this link. Thank you kindly.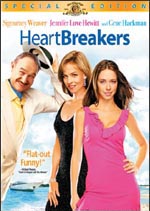 Purchase This DVD
Story / Content



Audio



Video



Extras