HEATHERS (THX VERSION)
Reviewed October 29th, 2001 by Dan Jones
"I like it. It's got that it's-a-cruel-world-let's-throw-ourselves-in-the-abyss type ambience."

Heathers is one of those movies that could probably not be made in this current day of age; most likely being deemed to insensitive or too dark. To an extent this was also the case in 1988, but thankfully near-bankrupt New World Entertainment decided to stick their necks out and do the piece. Revolving around the high school popularity and the inherent cliques that come from it, to murder and teenage suicide, Heathers is undeniably one of the best dark comedy/teen movie ever made.

Heathers tells the story of a power and callous clique of 'Heathers,' and the entry of Veronica Sawyer (Winona Ryder) into this group. We get an ultra-satiric glimpse of high school (set in the 1980s); from the geeks to the jocks, along with the war like activities high school students unleash on each other... here, to the ultimate of extents. After Veronica begins to despise her supposed friends, she meets up with Jason Dean, played by the young "Jack Nicholson-esque" Christian Slater, whom helps to escalate this hatred for the Heathers (and some others... ). As the body count begins to rise Veronica tries to break free from her and J.D.'s doings; dark comedy and great satire flow like water.

This is the second release of Heathers to the DVD format. Released by Anchor Bay we get a solid, one disc, quasi-special-edition DVD filled with some good extras, and improved THX Digitally Mastered video and sound. Granted, this release is not the largest Special Edition ever, but it does a good job nonetheless. Did I mention that this release comes with one of five different covers?! Also, a limited edition collector's tin is also available with some extra goodies. You can get more info on that edition by clicking here.

Audio wise, this special edition gives us a new Dolby Digital 5.1 mix, along with a 2.0 surround track. The newer 5.1 mix is not the strongest remaster ever, but, for the most part, Heathers is not a movie that really demands it. For the most part your sub and rears are going to stay relatively silent (with the exception of some of the few louder scenes); quality wise though, what we do get sounds great.

Video wise, Heathers is pretty solid when one considers the age of the film and the budget that went into the creation of it. For the most part colors are excellent and the image is fairly sharp. There is no real visual blemishing to speak of, besides some grain here and there. Overall, the video quality should be just fine for anyone's tastes. This newer release is presented in 1.85:1 anamorphic widescreen for those who are lucky enough to take advantage of it.

Extras wise, Heathers provides us with an audio commentary track from director Michael Lehmann, producer Denise Di Novi and writer Daniel Waters (all-in-one) which is quite interesting and delves deeper into the actual theme behind Heathers. Also included is a documentary entitled "Swatch Dogs and Diet Coke Heads" which has some nice interview material from Winona Ryder, Christian Slater, Shannen Doherty, Lisanne Falk, Francis Kenny and Norman Hollyn (directors of photography), and the aforementioned Lehmann, Novi and Waters. Here we get some interesting background information on the making of the film along with some reflecting commentary on the movie; with a run time of only thirty minutes this is a must watch. It also gives some tidbits on a possible Heathers 2 (which Winona Ryder is all about; whereas Daniel Waters is not so hot about the idea... ) and thoughts on the original ending of the film... which would have been great (not to diminish the actual one). Speaking of the original ending, we are given the original script for it; definitely worth a read... it would have been interesting to say the least. We are also given the normal for DVD extras: the theatrical trailer, talent bios of the cast, and a liner insert giving basic plot and history of the film.

Heathers is one of those cult classics that one will either love or walk away sickened and disturbed wondering what the hell the writers and producers were thinking. I am of the first group of course. If you just look at Heathers on the surface, and do not try to look any deeper into the underlying meaning, then you have missed the point. If you haven't seen it yet, you really should; it's an 1980s classic and shouldn't be missed. For all those who loved the movie and have not picked up the first DVD yet should really look into this newer release. This one definitely bolsters the DVD collection. Highly recommended.
Please help support our site by buying this DVD title through this link. Thank you kindly.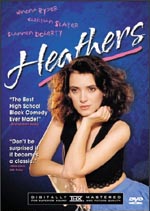 Purchase This DVD
Story / Content



Audio



Video



Extras