HEAVY METAL
Reviewed November 21st, 1999 by Staff
When you mix animation and great rock music – what you are going to get is a cult hit.

The movie is adult animation brought to us in the form of a bunch of stories with a common element. From the very beginning of the movie (during the credits), the basic story begins. A man (coming home from space) brings home a present for his daughter: a mysterious green ball. After the ball begins to glow and then killing the girl's father, the green ball begins to speak to the little girl and tells her of stories of greed, betrayal, fantasy and adventure. All of the stories have the green ball (later known as the "Loc Nar") as a central point of reference.

Besides the great animation - there is great rock music by bands like Journey, Sammy Hagar, Devo and Grand Funk Railroad among others. Also, the cast of voices for the movie is incredible. You've got the late John Candy (SCTV and too many great movies to name), Eugene Levy (Splash, American Pie) and Harold Ramis (Ghostbusters).

The video is presented in 1.85:1 anamorphic widescreen and looks beautiful. There really is no comparison between the old VHS version and the new DVD. Though the animation might not be as clear or as defined as a Disney animated classic – colors and black levels seem to be dead on.

The audio is presented in 5.1 and a 2.0 mix is also provided. Not one of those "reference" 5.1 mixes, but it is a major improvement over the 2.0 mix. The sub gets a workout every once in while and there does seem to be some split surrounds here and there. The great music and dialogue seems clear with very little distortion.

Columbia Tri-Star gives us what we want! Extra's galore on this disc which include: two deleted scenes, a 4:3 full frame rough cut of the movie (very interesting to watch) – which includes a commentary by Carl Macek, an audio track with Carl Macek reading his book "Heavy Metal: Animation For The 80's", a documentary, two still galleries and pictures of every cover of the Heavy Metal magazine.

The movie really brought adult animation to America in the early 80's. Heavy Metal is funny, gross and is very enjoyable during each story. This cult classic has hit DVD and Columbia Tri-Star has done an excellent job doing so.
Please help support our site by buying this DVD title through this link. Thank you kindly.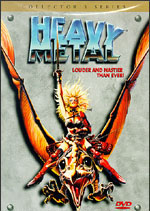 Purchase This DVD
Story / Content



Audio



Video



Extras