HEIST
Reviewed March 17th, 2002 by Dan Jones
Directed by David Mamet, Heist is one of those movies that I was anticipating seeing in theaters long before it was theatrically released. I went into it with relatively high expectations due to its strong acting pool of Gene Hackman, Danny DeVito, Delroy Lindo, and the card throwing extraordinaire Ricky Jay (if you donít know what I mean, the man can throw a playing card one-hundred and ninety feet at ninety miles-per-hour). Yet, I walked out of Heist with some issues with an otherwise fine film whose fatal flaw was its excessive use of twists (as a matter of fact, if youíve seen the commercial for the DVD currently out, youíll notice they say ďso many twists youíll have to see it more then onceĒ).

Heist revolves around a team of professional thieves on their one last score (isnít it always?) after a seemingly simple jewelry store robbery takes a sour turn. DeVitoís character, Bergman, essentially forces Hackmanís character, Joe Moore, and his team to rob an airplane of a large quantity of Swiss gold. Bergman also throws in a constraint, in which his son Jimmy Silk, played by Sam Rockwell, will join Joe Mooreís team in the heist. Of course, he isnít trusted. We also have Bergmanís wife, Fran Moore, played by Rebecca Pidgeon, getting caught in the middle of things. Her character is a little dry throughout the film though, never getting any sort of great depth. From here Heist flows relatively smoothly (until the climax of course), giving us a nice plot, solid acting and good dialogue.

As I said, overall Heist is a solid caper film, yet it attempts to take itself down too many paths with too many plot twists. The ending is a tangled un-climactic mess almost, with one seemingly omniscient character that knows every possible avenue and has them all planned out. If the ending could have been simplified a bit, or not so many twists were applied, then the film would have been much more solid as a whole. Mamet was clearly just trying to do too much in this film. Perhaps a slightly longer runtime would allow the ending to flow a bit better without so many quick one hundred and ninety degree twists.

DVD wise Warner has provided us with essentially a film only release; giving us the movie and essentially nothing more. This is probably due to its somewhat lackluster performance in theaters, grossing only about twenty-four million dollars.

Video wise, Heist is presented in 1.85:1 anamorphic widescreen and overall looks good. This transfer is not overly standout in any area, but does have good details, accurate flesh tones, relatively deep and rich blacks and no compression problems to speak of. Itís just not a wow transfer, with a not quite sharp, not quite soft presentation.

Audio wise, Heist has been given a 5.1 Dolby Digital mix that is somewhat disappointing for its lack of a surrounding experience and minimal low end use. For the most part, the only sound that comes from your rears will be via the score, and that is somewhat few and far between. Most of your audio will come from the front three, with even minimal use of the LFE channel, which is surprising due to the somewhat action nature of the film. Yet, the audio is nicely detailed with good dialogue presentation. But, for a 5.1 mix of a crime film with some action scenes, I believe this track could have been more aggressive, and much more enveloping. Also included is a 5.1 French-Quebec Dolby Digital track, English, Spanish, and French subtitles and English Closed Captioning.

Supplement wise, as I said earlier, it is clear that Heist did not achieve blockbuster status in theaters, as the DVD provided here only gives us essentially two extras, although one would be hard pressed to even call them extras. First off we have the trailer for Heist in anamorphic widescreen. Secondly, we have filmography information for most of the main actors. End of extras. Truly this is a missed opportunity. I would have really liked at the very least a full audio commentary from Mamet to see what he felt about the ending. Perhaps in the future?

Overall Heist is a solid caper film that does delve into some new group in the genre. The plot is solid, the acting is solid, just the script needed a bit of trimming or extending at the end I feel. Yet, this is a good film that definitely should have done better then it did; perhaps this release will allow it to reach the audience it couldnít in theaters. Nevertheless, I feel Warner may have missed an opportunity with this DVD wise, there has to be more material on Heist then what is provided here (which is none).

If you like caper flicks or are just a fan of Mamet, you should definitely pick Heist up. It has its flaws, but overall is a quality film. Recommended.
Please help support our site by buying this DVD title through this link. Thank you kindly.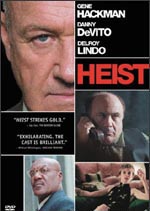 Purchase This DVD
Story / Content



Audio



Video



Extras