HENRY V (1989)
Reviewed August 14th, 2000 by Brian White
After fighting a Russian boxer in Henry IV, which was essentially a rehash of Henry III; the Henry character experiences a downward spiral in the penultimate feature. There's lots of blood, and the dialogue really sucks. I mean, who writes this crap?

Seriously though, Kenneth Brannagh is owed much applause for bringing Shakespeare back into the mainstream. Henry V, while brilliant without any background info about the production, is made all the more interesting when the viewer considers that Brannagh was only 27 when he adapted, directed and starred in the feature. Much has been said about the contrast between the 1943 Olivier Henry V, which was a call to arms, and this bloody Henry, which might have made the post-Faulklin British wax introspective.

Brannagh set out to make a Shakespeare film for the typical movie goer. And, strangely enough, he doesn't dumb it down (unless you take yourself too seriously). While not one of Shakespeare's more complex plots, this play was written for the common viewer to cheer to, and there's lots to cheer in this film:

- Henry V deals with one of the, if not THE greatest, moments in British history, made all the better with the Bard's "advantages"
- it shows the best example of a King at the height of his power
- the King is powerful, despite a floundering, rebellous youth
- the French get screwed over royally

Brannagh, aside from his great performance, crowds the screen with the finest Shakespearian actors. The film boasts Derek Jacobi, Brian Blessed, Judy Dench, Alec McCowen, Emma Thompson, and nearly everyone else. The quality of the cast alone is enough to make this a purchase. Apart from that, Brannagh does the impossible and edits Shakespeare down into a great flick, without patronizing.

This MGM disc is quite acceptable between now and that glorious day when Criterion revisits this film (when contacted, Criterion claimed that they don't have DVD rights to this release), with the quality that they put into their Henry V laserdisc. This transfer is 1.66:1 and anamorphic (which is not stated on the packaging). The picture is good, when the modest budget is considered. Crite-rion's scratch removing technology will come in handy here, but it's not that bad.

The Dolby digital stereo track is better than might be expected on a rather BBC-esque film from ten years ago. However, the absolutely perfect score by Patrick Doyle deserves a rich 5.1 treatment.

The disc includes the original theatrical trailer, and chapter selection.

So pop in the disc, and listen to the Crispin's Day speech. It'll inspire you to do anything.
Please help support our site by buying this DVD title through this link. Thank you kindly.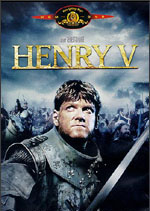 Purchase This DVD
Story / Content



Audio



Video



Extras