HIGH FIDELITY
Reviewed April 24th, 2001 by Todd Terwilliger
I was so disappointed to miss this film in its theatrical release. I'm a huge John Cusack fan, all the way back to the classic "Better Off Dead". So, when I had the opportunity to give his latest turn a spin (no pun intended), I was ready to be entertained. High Fidelity did not disappoint.

As with the majority of Cusack's characters, he plays a man at a crossroads in life. This time, that man is Rob Gordon, a thirtysomething record store owner who was just dumped by the latest in a long line of girlfriends. This event inspires Rob to examine his top five break-ups of all time to determine why he keeps hitting the skids. When he's not deep in self-contemplation, Rob spends his time in the shop with his two music-geek employees, Dick and Barry (Todd Louiso and Jack Black).

The music shop banter is hilarious. Black, in particular, steals every scene he's in while Dick captures that look of every guy I've ever seen at an art house coffee shop. Speaking of music, the tunes throughout the entire film are spectacular. This is one of those movies you watch and then rush out to buy the soundtrack (mine is on the way!).

Cusack is always dependable. Black, as I already said, is great. There are also some nice cameos. Lili Taylor and Catherine Zeta-Jones make appearances as two of Rob's ex-amours. Tim Robbins is Ian, the man to whom Rob's latest ex (Iben Hjejle) flees to. There is good chemistry between everyone on the screen. I get the feeling this was a project that they wanted to work on, more than just a simple payday.

Visually, High Fidelity looks very nice. The transfer is an anamorphic 1.85:1 widescreen. The colors, while not often bright, are deep and lifelike. When the colors are bright, such as during the nightclub scenes, the contrast with the deep blacks are very satisfying. If there were any scratches or grain, I would have to really look to find them. It is a very clean picture.

With all the music and dialog, sound is extremely important. The Dolby Digital 5.1 soundtrack handles the task admirably. The various songs that comprise the soundtrack are very full and deeply imaged. The original score by Howard Shore is also imaged wonderfully. The dialog is contained within the center channel and remains clear and unmuddied throughout.

If there is a small complaint about this package, it is that it's light on the extra features. There are conversations with Cusack and Director Stephen Frears, as well as deleted scenes, and a theatrical trailer. The interviews are good however the movie begs for something more substantive.

I really took to this film. Although, for Cusack, he does not tread any new ground (does he ever?). This new incarnation of his man-in-flux is as good as ever. Add in some hilarious banter and a set of great music and you have one of the better films in the Cusack anthology. High Fidelity is a disc that begs to be spun.
Please help support our site by buying this DVD title through this link. Thank you kindly.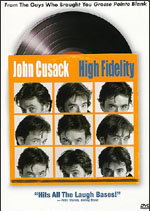 Purchase This DVD
Story / Content



Audio



Video



Extras