MONTY PYTHON AND THE HOLY GRAIL
Reviewed October 3rd, 1999 by Staff
The long awaited and highly anticipated release of the classic movie Monty Python and the Holy Grail finally arrives on DVD! The tale of King Arthur and his search for the Holy Grail. The twist? Its Monty Python, so bring on the Moose, Lamas, and don't forget the holy hand grenade! You will be laughing in no time with this witty comedy. If you have never had the pleasure of seeing this movie go buy the DVD now! The only question most consumers have, since most have seen this movie, is how does it look and sound.

You are provided with a Widescreen Transfer in its original theatrical aspect ratio. Now keep in mind this is better then any VHS version, but has some flaws. First, this is a very dirty transfer. Meaning that there are a lot specks and blotches that were on the original transfer. This could and should have been cleaned up for the DVD release. The colors are not very vibrant, although this being an older film may contribute to this problem. Finally there is some visible grain and artifacts in the dark scenes. Overall, a transfer you can live with, but won't be showing your DVD system off with.

As the video had some flaws so does the audio track. First, off you are presented with a stereo sound track when a fully remastered Dolby Digital 5.1 soundtrack would have been more in line with a movie of this caliber. With stereo sound the audio is not very clear you will struggle to hear some of the lines here and there. Keep in mind still better then any VHS version!

Finally, the extras! Several bonus trailers of movies other then the Holy Grail. Only problem there is it would have been nice to have a Holy Grail trailer! Overall a great, fun movie and although not the best DVD has to offer, it is worth it if you can find it for a good price!
Please help support our site by buying this DVD title through this link. Thank you kindly.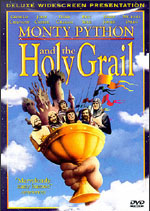 Purchase This DVD
Story / Content



Audio



Video



Extras