HOLY MAN
Reviewed January 1st, 1999 by Staff
Eddie Murphy and Jeff Goldblum team up for a feel good comedy in Holy Man. Jeff Goldblum is a senior executive at the Good Buy Shopping Channel named Rick. His sales have fallen into a slump when he comes along a Holy Man named G, Eddie Murphy. With his ability to reach people and make them feel good about themselves he ends up being a gold mine for selling products. Just how far will Rick go to earn a buck? This movie addresses many of the issues we all address sometime in our life. Most of all a realization of what exactly will make us happy in life! Eddie Murphy adds a great comical relief to what could have been an overwhelmingly serious movie!

The video is presented in widescreen in its original theatrical aspect ratio of 2.35:1. The transfer is clear with vibrant colors and deep dark blacks. Disney really did a great job with the transfer not a hint of grain!

The audio is presented in Dolby Digital 5.1 and will knock your socks off! Very clear and crisp and while not an action film there is a full use of all 6 channels. The packaging states special features include a Dolby Digital 5.1 Audio. Since when has this become a special feature? Dolby Digital 5.1 is the accepted standard for DVD Audio.

Extras? Once again this is a bare bone Disney title with no extra's. The MSRP is set at 29.99. Extras, Extras, Extras we want Extras. Extras add so much to the overall experience of watching a movie. Many DVD's are so packed with extras that you can literally spend more time with the extras then the actual movie itself. Just a suggestion if Disney wants to sell more discs they really should add to the extras content!
Please help support our site by buying this DVD title through this link. Thank you kindly.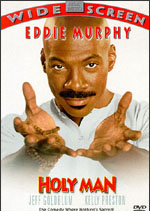 Purchase This DVD
Story / Content



Audio



Video



Extras