HOPE FLOATS
Reviewed November 10th, 1999 by Staff
Sandra Bullock, hottie to the max, stars in another drama appropriately named, "Hope Floats." Sandra plays "Birdie" a mother of a daughter named Bernice. She's happily married to Bill, or at least she thought she was until she found out on a national talk show that her husband has been unfaithful. The story goes on from there on how she and her daughter struggle to pick up their lives. To do this they first move back to her hometown and in with her parents. From there you are entranced by the day to day battles and struggles that take place to move on with life, to let hope float. The movie also stars Harry Connick Jr. and is directed by Forrest Witaker (star of Phenomenon).

The video transfer is good, in a few scenes you will notice the grain and that the colors are not dead on as the rest of the scenes, but overall a pretty good transfer. You are presented with a widescreen format in the original theatrical aspect ratio of 1.85:1, but is not anamorphically enhanced. The lacking of an anamorphic transfer is part of the reason the transfer is not the best it could be.

The audio is also good, but not excellent. You are presented with a Dolby Digital 5.1 transfer, but very few scenes take advantage of the full use of all channels. The audio is clear, but also a bit on the quiet side. The vocals are very even being well matched to the other sounds and activities happening in each scene.

The extra's are not plentiful. You are presented only with a trailer and the bios of the cast. This along with the audio and video transfers make this one disc you won't be showing your DVD system off with. Overall a fairly good story, with some good emotional scenes, but don't come to this movie in a depressed mood! If you can find this one for under $10 grab it for your collection, otherwise you might enjoy picking another movie.
Please help support our site by buying this DVD title through this link. Thank you kindly.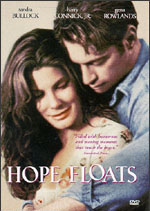 Purchase This DVD
Story / Content



Audio



Video



Extras