HOUSE / HOUSE 2
Reviewed October 21st, 2001 by David Nusair
Here's a case where getting the limited edition package (which is the same price, by the way) is a much better idea. Both packages feature House accompanied by many special features, but the limited edition comes with the sequel on a separate disc! Now that's a special feature.

House takes the old haunted house story and puts a comedic spin on it, mostly to unimpressive results. William Katt stars as a writer who once had a successful horror novel, and has since been riding the tide of that success. He decides it's finally time to follow up that book with a more introspective and personal story about his time in Vietnam. He moves into his recently-departed grandmothers gigantic house, where some strange stuff starts to happen.

The real problem with House is the complete lack of scares. Since the entire flick takes place in this haunted abode, not much happens aside from Katt's increasingly bizarre visions. Occasionally, his next door neighbor (played by George "Norm" Wendt, of all people) will pop by, but really, this is the story of a man and his house. It doesn't take long before a pattern emerges: Katt sees something weird and crazy, gets excited about it, and attempts to take action. This happens over and over until finally Katt's daydreams about Vietnam (which are also quite useless and cheesy) start coming to life, with a soldier whose death he was partially responsible for comes back to haunt him (played by Night Court's Richard "Bull" Shannon!)

There are some impressive special effects sequences, but we're never really given a reason to care. Katt basically goes off the deep end immediately and becomes more and more affected by his past experiences in the war – most of these scenes don't initially make much sense, but by the time the end rolls around (and Shannon shows up in full skeleton regalia), the pieces have been put into place. But really, what it all comes down to is the fact that House is merely Katt being scared by the various elements in this haunted house. This is another problem: The death count is virtually nil. Katt imagines he kills someone at one point, but that's about it. And for a so-called horror movie, that's not good. We need gore and we need lots of it. A guy running around in a monster suit isn't enough to sustain a full-length horror flick (but then again, this is a cult film, so what do I know?)

The sequel isn't much better – it's jokier and less-gory than the first!

Ayre Gross takes over for William Katt this time around, and he's joined by his girlfriend and two friends. They all move into the haunted house and shortly thereafter spooky stuff starts to happen – everything from a burgeoning forest in an upstairs room to the resurrection of Gross' long-dead grandfather.

As with the first movie, House 2 eschews thrills in favor of lame one-liners and cheesy sight gags. And apparently there's a rule that these House flicks have to feature a star of Cheers, because instead of George Wendt, John Ratzenberger (he played know-it-all mailman Cliff Clavin) pops up as a mysterious handyman. Much of the story relies so much on jokey implausibility – such as the dead grandpa (played with a surprising amount of depth by character actor Royal Dano) – it's really quite difficult to care about anything that happens. Imagine watching a movie like The Naked Gun or Airplane! – except without the laughs – and you've got House 2.

But the first House film was such a success the filmmakers likely figured if it ain't broke, why fix it? And to make this flick even more accessible than the first one, the gore and violence has been toned down far enough to warrant a PG-13 rating. Obviously, random acts of brutality aren't required to create a successful atmosphere of dread – think any Hitchcock film or even this summers haunted house flick, The Others – but House 2 just goes too far with the over-the-top hijinks. It could've easily been advertised during Saturday morning programming under the label, "my first horror movie!"

But perhaps if you watch House 2 (and House 1 for that matter) with the right frame of mind, you might just find it an enjoyable romp in a wacky house o' horrors. Either that, or you'll find it to be an excruciating double bill from which there is no escape.

Audio: Both films are presented with a dolby digital mono soundtrack, and they're surprisingly effective. Though your surround speakers won't see much action, the sound is always crisp and clear. Dialogue is easy to understand and the musical score never downs out sound effects or the occasional explosion.

Both films feature a 1.85:1 anamorphic transfer, and both are quite nice – if on the grainy side (though I'd have to assume that's to do with the print itself, and not the transfer). But on the whole, these are both excellent transfers. Colors are bright and vibrant while blacks are rich and deep.

Extras: Well, House 2 itself is an extra, so that right there makes this a package worth purchasing. But there are other extras, most of which are housed (no pun intended) on the first disc. House 1 features a commentary track with director Steve Miner, producer Sean Cunningham, writer Ethan Wiley, and star William Katt and this is generally more entertaining than the movie! This plays like a reunion of sorts – which it was, considering these guys hadn't seen each other in years – and it shows. A lot of information is dispensed in this track, along with a lot of jokes. This is a lot of fun, and almost makes the movie itself seem better as they talk about it. Next up is a 12-minute featurette detailing the making of the movie. This is surprisingly informative, with a lot of footage of the work that went into the various special effects in the movie. Rounding out disc 1 are a still gallery and two theatrical trailers. Disc 2 has less supplements, but considering that it is a supplement itself, that's to be expected. A commentary track is again included, though this time the participants are only Wiley and Cunningham. While this is just as informative as the first, it's not quite as much fun. This is track is quite dry, and doesn't have that jocular feeling that the first one did. Also included is a trailer.

Conclusion: House and House 2 are incredibly silly and may appeal to you if you've never seen a horror flick, but otherwise keep away.
Please help support our site by buying this DVD title through this link. Thank you kindly.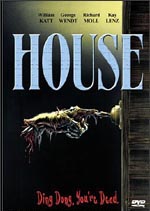 Purchase This DVD
Story / Content



Audio



Video



Extras