HUNCHBACK OF NOTRE DAME 2, THE
Reviewed June 24th, 2002 by David Nusair
Disneyís neverending quest to cash in on their own properties continues with yet another sequel nobody asked for. But, oddly enough, it works here because of a story that doesnít feel unnecessarily grand; The Hunchback of Notre Dame 2 seems like just another few days in the lives of these characters weíve already been introduced to.

The movie picks up a few years after the original left off, and Quasimodo is still toiling in the bell tower along with his three stone gargoyle friends. Heís happy enough, but still longs to find someone to love. No longer fixated on Esmerelda, Quasi has become good friends with her and her little boy. Meanwhile, the circus has come into town, bringing with it the evil ringleader who has designs on a spectacular bell watched over by Quasi. He sends in an innocent tight-rope walker to keep Quasimodo distracted while he figures out how to steal the valuable antique. But little does he realize that his supposed diversion is falling for the hunchback, a feeling that is mutual for the lonely Quasi.

Itís not an unnecessarily grand storyline; rather, itís an enjoyable enough little adventure that doesnít require one to have seen the first film. The songs arenít exactly memorable and the animation is nowhere near the stunning quality of a Disney theatrical release, but the movie does have a certain amount of charm about it. Thatís due in no small part to the fact that every actor who voiced a character in the original has returned, most notably Tom Hulce as the Hunchback. He, along with actors like Kevin Kline and Demi Moore, belies the small budget of the film and turns in some stellar voice work.

Look, the target audience for The Hunchback of Notre Dame 2 is clearly young kids, and theyíll no doubt eat this simple tale up with a spoon. But adults will probably also get a kick out of it, if only because itís not the overloaded extravaganza far too many childrenís movies tend to be (Scooby Doo, Iím looking in your direction).

Audio: The movie, amazingly enough, comes armed with a DD 5.1 and DTS soundtrack! Both are quite impressive, though there is little difference between the two. The sound is surprisingly active, with a lot of rear speaker action. Kudos to Disney for throwing in such an impressive soundtrack.

Video: This 1.66:1 anamorphic transfer is good, but exposes the limitations of the animation. But itís clear and vibrant, so itís hard to complain on a technical level.

Extras: Most of these extras are geared towards the kids, but letís have a look. First up is something called Festival of Fun, which is basically a puppet show set to some of the music in the movie. Next is a four minute behind-the-scenes featurette with Jennifer Love Hewitt. This is pure fluff, but does provide a couple of interesting nuggets. Rounding out the special features are a poem read by Jason Alexander (!) and two trailers (Max Keebleís Big Move and the original Hunchback).

Conclusion: If youíve seen the first, youíll probably enjoy this.
Please help support our site by buying this DVD title through this link. Thank you kindly.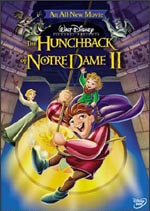 Purchase This DVD
Story / Content



Audio



Video



Extras