INDEPENDENCE DAY
Reviewed July 10th, 2000 by Brian White
Ok, face it: there are films, and there are movies. Sure, it's sexier to have films on your shelf, but films don't flex your home theater like movies do. And to the best of my memory, the Last Temptation of Christ DVD doesn't get the play that Star Trek First Contact does. And really, you only need a crappy black and white TV to enjoy Citizen Kane (whenever it comes out). No matter how big a film snob you are, you must want to show off your home theater sometimes. One movie that will make your beloved setup shine is Independence Day Special Edition. This disc is pure candy for the eyes, ears, and pocketbook. Cast out your previous demo disc; it has been usurped.

Independence Day was the event movie of the summer of 1996. It was all popcorn and no plot. Well, that's not true; there is enough plot to facilitate all the cool stuff. It's kind of a disaster film: aliens come to earth and start zapping on a large scale. The filmmakers attempt to make the audience identify with a large ensemble cast. Here we have a group ranging from a stripper, to the President of the United States. In the movie, the special effects are occasionally interrupted to try and make us care about the characters dying, or getting their revenge. Ultimately, it's more satisfying than you'd expect. It's a great popcorn movie.

This DVD looks excellent. The 2.35:1, anamorphic transfer shines (on my modest direct-view set, anyway). Hey, it's even THX certified, and we all know how valuable that is. This was an expensive film to produce, and every cent is on the screen. It's a site to behold. The blacks are so black, the colors are so vivid. Detail is just beyond...

While the video transfer is excellent, enough can't be said about the 5.1 track. My standard "dynamic" compliment is too flaccid for this amazing fare. The viewer is really in the middle of things here. Panning effects back and forth across the front, and diagonally across the room are unbelievable. Far too much attention was paid to this audio mix. Listen to the agent shoot the pop can off of the spaceship: it ricochets off one back corner of the room, and rolls to the other - Very Cool!

Hey, you want extras? Try a WHOLE SECOND DISC!!! There's way too much here (and with really cool menus as well). There are 2 cuts of the film, 2 screen-specific commentary tracks, documentaries, DVD-ROM content, and a whole bunch of the "TV" news footage they shot for the film. Basically, for the price of a regular DVD, you have all the trimmings of a $200 laser disc. Enjoy.
Please help support our site by buying this DVD title through this link. Thank you kindly.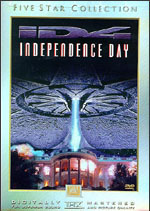 Purchase This DVD
Story / Content



Audio



Video



Extras