IGBY GOES DOWN
Reviewed May 11th, 2003 by Dan Jones
"Our father would be a 'slippery when schizophrenic' sign, for instance...along the highway of life."

Igby Goes Down represents to me a modern day take on J.D. Salinger's masterpiece, the Catcher in the Rye, if for nothing more then the similarities between Holden Caulfield and Igby Slocumb.

Igby, played confidently by Kieran Culkin, is an intelligent, rebellious teenager; the product of an extremely dysfunctional wealthy family. His mother, Mimi, is a cold, selfish individual, whom pops pills constantly and is, in the majority of the film, dying from cancer. Igby's assumed father, Jason, played by Bill Pullman, is pictured as a mentally unstable individual who ends up going through a nervous breakdown and being placed in a psychiatric ward. Then there is Igby's older brother, Oliver, played perfectly by Ryan Phillippe; a young-republican who seems to enjoying riding on the coattails of giants; in this case, Igby's Godfather, D.H. Banes played by Jeff Goldblum. Banes is depicted as incredibly wealthy, mysterious sort of individual; moreover, a man who seems more or less morally bankrupt.

Throughout the film, Igby meets up with a couple of key women, the first being Rachel, played by Amanda Peet. She is described as an artist, though we never seen her create much in the way of art, and we quickly learn that she is Banes mistress, using his studio while he uses her. Next, we have Sookie Sapperstein, played by Claire Danes. Sookie takes quite an interest in Igby, mainly because she thinks he's funny, though rarely does she laugh.

Obviously this is a character film, with the greatest emphasis placed on Igby and his want to break free from this lifestyle he is sucked into; to break free of these "phonies" (as Holden would call them) and start his life anew somewhere far away ("I'm drowning in assholes"). However, Igby is not the most likeable protagonist ever; an often sarcastic, coarse individual, that often seems to portray traits that he himself despises in others. We see a lot of Igby's father in Igby as time goes on, how Igby deals with the pressures around him, as well as those he creates.

On to the DVD.

The video presentation here, in 2.35:1 anamorphic widescreen, is quite good. Igby Goes Down is not the most vivid film ever, with a fairly muted palette. Flesh tones are very accurate and blacks and darks are fairly bold. I noticed little in the way of compression problems and edge enhancement. Overall, this is a film-like transfer that presents the material nicely.

On the audio side we are given a 5.1 Dolby Digital mix. Igby Goes Down is quite a dialogue heavy film, with little in the way of intense or active scenes, so don't expect much out of this mix. Surrounds are rarely used, except in those instances of the score or the occasional song. Dynamic range is good and dialogue is crystal clear. There's not much to speak of in the low-end, though that is to be expected.

Starting the extras, we have an audio commentary with first-time director Burr Steers and Kieran Culkin. Unfortunately, there is not much to this track; little in the way of technique or how the film came to be, casting, etc. Might be worth a short listen, but it is not the most gripping commentary.

Next, we have a 16-minute featurette entitled "In Search of Igby." This featurette is shot mainly on what seems to be handheld, with some behind the scenes looks, as well as some bits on what the film is trying to say. Not very informative overall, but worth a watch.

Next, we have around ten minutes of deleted scenes, complete with optional commentary from the film's director, Burr Steers. These scenes are similar in content to that of which is already in the film, just providing slightly more of the same. None of these scenes really scream for inclusion in the final cut, though are nice to have.

Rounding out the extras, we have a stills gallery and the film's theatrical trailer.

Igby Goes Down is a good film, with solid acting and a good storyline, that even though might seem pretentious at the surface, actually has redeeming value. The acting in the film is pitch-perfect, with the cast clearly understanding their characters. Kieran Culkin is definitely the new Culkin to watch. The film is quite dark at times, and perhaps a bit disturbing at the conclusion, leaving more questions then answers. This DVD presentation here is quite good, with a nice amount of extras, a solid transfer and a good, if not active, Dolby Digital mix. For fans of the film, this is an easy recommendation. For those who have not seen it, I would recommend at least a rental.
Please help support our site by buying this DVD title through this link. Thank you kindly.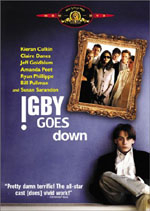 Purchase This DVD
Story / Content



Audio



Video



Extras