I SPY
Reviewed April 4th, 2003 by David Nusair
I Spy, based on the old '60s television show with Bill Cosby and Robert Culp, is yet another watered-down, entirely predictable pseudo-action flick. Like Showtime, another Eddie Murphy film released earlier this year, I Spy substitutes big explosions for actual violence and bases the whole movie on a tired formula involving incompatible partners.

Owen Wilson stars as Alexander Scott, a fairly inept secret agent who is forced to team with a brash and loud-mouthed boxer named Kelly Robinson (Murphy, who else?) Robinson's connections can get the two into the mansion of a rich and powerful villain named Gundars (Malcolm McDowell), who has in his possession a plane that has the ability to become invisible. Many, many lame jokes ensue - mostly involving the wacky mismatched nature of Murphy and Wilson's relationship. Gary Cole has a small part as a Spanish spy named Carlos, a character so appealing and bizarre it's easy enough to wish he was the focus of the film.

I Spy is about as mainstream and safe as movies tend to come, designed to appeal to as wide an audience as possible. What can you really say about a movie that stars the great Owen Wilson, and subsequently manages to waste him in virtually every single scene? There is exactly one funny sequence in the entire movie, a moment that all the commercials have seen fit to divulge. Wilson, too nervous to speak to a beautiful woman (Famke Janssen), allows Murphy to coach him via an earpiece - an event that culminates with Murphy singing Marvin Gaye's Sexual Healing to Wilson, who does a pretty good job of mangling the song. That was a funny moment, one that was independent of the entirely-too-busy plot, unlike the remainder that might as well have been out of a how-to-make-a-family-friendly-action-movie handbook.

I Spy's even got one of those cheesy European bad guys that flourished in '80s action flicks and appear to be making a comeback. Here, that villain is played by Malcolm McDowell, who's apparently picking up where Dennis Hopper left off and taking every evil role that comes his way. But the problem here is that he's actually not that evil; sure, he has this top-secret nuclear aircraft that he wants to sell, but that's about the extent of it. He doesn't kill a single minion for disobeying an order, nor does he ever screw over a potential customer. Instead, he's just a businessman out to make a bundle of money. If nothing else, a movie like this should have a truly dispicable and over-the-top bad guy that the audience can hate. McDowell's character will only elicit feelings of indifference, which is kind of pointless, really.

I Spy might appeal to those looking for a completely mindless flick to kill some time with, but everyone else should stay clear.

Audio: I Spy is presented with a DD 5.1 soundtrack and it's expectedly quite loud. This is a film with a lot of explosions, and the track does a good job of handling them.

Video: Even better is this 1.85:1 anamorphic transfer, which (not surprisingly) is free of DVD and film related artifacts. Dark sequences aren't a problem here, which makes this the ideal way to watch this film.

Extras: First up is a really awful commentary track featuring director Betty Thomas, editor Peter Teschner, producer Jenno Topping, and co-writers David Ronn and Jay Scherick. This amazingly dull track features hardly any actual information, and consists entirely of the group making jokes with one another. Definitely worth skipping. Next are four featurettes, each running between four and five minutes. Each covers a different facet of the production – gadgets, costumes, production design, and the fighting sequences – but they're too short to really be effective. Finally, there are a bunch of trailers (Adaptation, National Security, Punch Drunk Love, Formula 51, and Blue Streak). The Punch Drunk Love trailer is easily the highlight of the entire disc.

Conclusion: Loud and pointless, I Spy is certainly worth passing on.
Please help support our site by buying this DVD title through this link. Thank you kindly.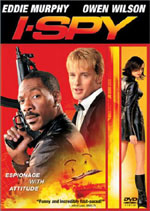 Purchase This DVD
Story / Content



Audio



Video



Extras