JACKIE BROWN (COLLECTOR'S EDITION)
Reviewed August 13th, 2002 by Dan Jones
" Now that there is the Tech-9, a crappy spray gun from South Miami. This gun is advertised as the most popular gun in American crime. Do you believe that shit? It actually says that in the little book that comes with it: the most popular gun in American crime. Like they're actually proud of that shit."

Well this sure has taken a while. Five years to be exact.

Starting it off, I should say that I loved Reservoir Dogs and Pulp Fiction. Here are two instant film classics. Great writing, great acting, and just a ton of escapist fun. Yes, Quentin Tarantino went rather ballistic after Dogs and Pulp, acting and producing a handful of films that he might not want to be associated with anymore (not to say From Dusk Till Down is a completely awful film). Therefore, when time came to put up or shut up, Quentin made Jackie Brown, an adaptation of Elmore Leonard's novel. You had to go in to Jackie Brown with high expectations as it was basically pushed as the next Pulp or Dogs. Quite a lot of pressure on a film and its director's shoulders. The results? Very good.

Jackie Brown goes like this. We have Ordell Robbie played by Samuel L. Jackson who deals in guns and dope. Jackie Brown, played brilliantly by Pam Grier, is a flight attendant who works for Ordell, who is caught by the Feds and an LA cop smuggling a large stash of gun money Ordell had hidden in Mexico. Federal Agent Ray Nicolette (Michael Keaton) and LA Cop, Mark Dargus (Michael Bowen), decide that they will let her off the hook if she leads them to her boss (standard way of doing things). Of course, $500,000 is a lot of money; Jackie does not want to end up dead by snitching on Ordell, nor does she want to spend time in prison. On top of that, we add Ordell's friend Louis Gara, fresh out of prison, to the mix to join Ordell in his "business." Quite a lot of twists and turns are to follow.

Overall, Jackie Brown is a very solid film. The acting is great from this star-studded cast, with a strong supporting cast in Bridget Fonda, Robert Forster, and Chris Tucker. While the film does not have the pacing of Pulp Fiction, it still flows pretty well. In typical Tarantino fashion, the film has many, many subplots that are all meticulously laid out for the film's conclusion. While Jackie might not top Pulp or Dogs, it fits nicely right beside them as another great film from an interesting director (to say the least).

So, on to the DVD. This, surprisingly enough, will be the first release of Jackie Brown to the DVD format and it definitely got the treatment in this spectacular Collector's Edition out of Buena Vista.

Video wise, Jackie Brown is just exceptional. You would have never guessed how good this transfer looks. The source is perfect, detail is great, and colors are vibrant without bleeding and never dull or lackluster. Blacks and shadows are deep and rich while still rendering great detail throughout. Neither edge enhancement problems nor digital compression problems were noticed. This is truly a great reference quality transfer, who would have guessed it? Kudos to Buena Vista on this one, truly a great film-like transfer.

Audio wise, Jackie Brown has been given very solid 5.1 mixes in Dolby Digital and DTS. Both tracks are sure to please with exceptional dialogue quality, great use of rears for a non-overpowering, yet quite enveloping experience. The musical numbers also sound fantastic offering a lot of lower bass bunch were needed. In typical fashion, the DTS track is slightly better then its Dolby Digital brother, offering a slightly more detailed sound fiend and a bit tighter bass punch. For a movie of this type these are very impressive mixes, truly beyond my expectations. A 2.0 French track is also included.

Extras wise, Buena Vista has provided quite a number of them... let's take a closer look.

First off, you will notice that the DVD comes with an introduction from Tarantino, which in typical fashion, is quite amusing. Next, we have a "fact track" which acts as a kind of replacement to what an audio commentary would do, offering tons of information at different scenes in the film. Worth a flip through, yet an actual audio commentary from the man himself would have been a bit nicer.

Starting out disc two let's cut to what most people probably will check out first, the deleted and alternate scenes. Running approximately twenty-five minutes in length there is some funny stuff to be seen here. None of this is too important, but definitely worth a flip threw. Unfortunately, no commentary is provided to truly understand why these were cut.

Next, we have the quite long, unfortunately quite promotional, feature, "Jackie Brown: How It Went Down." Running over 45 minutes one would hope that this would actually show how Jackie Brown went down... yet in all too typical fashion this long piece becomes an avenue for promotional interviews and material of the like that really gives you no greater understanding or respect for the film that its covering. There are a ton of interviews though, and maybe for that reason alone it's worth a watch, yet I can't help but feel it could have been better.

"A Look Back At Jackie Brown" is a much more interesting feature that is basically just a long interview with Tarantino. He answers a ton of questions having to do with the film, the cast, the story as well as reflections on his previous work. While this might be a bit dry at times, it is definitely informative; without a doubt the best feature on the disc.

"Chicks Who Like Guns" is quite an amusing little extra, running a scant five minutes. It is setup like a commercial and is definitely worth a watch.

Finishing the extras, we have an enormous stills gallery, Siskel & Ebert's review of the film, a Pam Grier radio spot for the film, a highly amusing MTV spot, 3 theatrical teasers and 8 TV spots.

Overall, Jackie Brown is a very solid film that is finally, after five long years, available on DVD. Buena Vista has done a great job with this release in terms of audio and video, as well as some nice extras. If you're a fan of Tarantino, or liked Pulp or Dogs this is a must purchase; if you're a fan of film, I'd pick this up as well. Highly recommended.
Please help support our site by buying this DVD title through this link. Thank you kindly.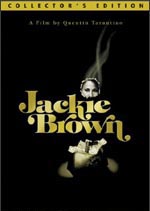 Purchase This DVD

Purchase Promo Poster

Story / Content



Audio



Video



Extras